Aquaculture
Quảng Ninh sets a target of 8,000 billion dong from marine culture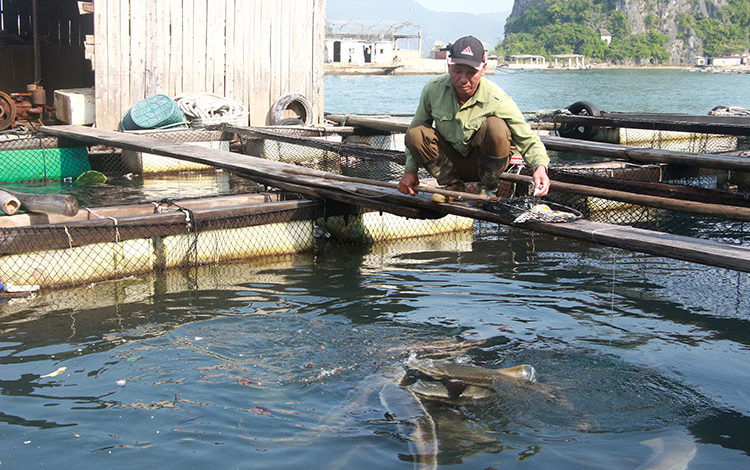 Quảng Ninh sets a target of achieving 8,000 billion dong from marune culture for the period 2023-2030, accounting for about 70% of the total production value from aquaculture.
Quảng Ninh has the strength of marine culture thanks to its long coastline of over 250km, 50,000ha of strait and tidal flat, and over 2,000 islands.
In 2021, the province had more than 7,000 ha of shrimp farms, with 4,000 ha of industrial shrimp farms, producing over 14,000 tons of shrimp, valued at more than 1,400 billion dong. The total area of marine fish and mollusks reached over 10,600 ha, producing 45,000 tons with 39,000 tons of mollusks and the rest being marine fish.
In the first half of the year, the total seafood output reached 73,000 tons, up 8.7% from the same period last year, with the output of wild-caught species reaching 35,000 tons and the output from aquaculture reaching 38,000 tons. As many as 32,000 ha of land has been used for aquaculture, up 50% from the same period last year.
In the evaluation of the Sub-department of Fisheries, even though Quảng Ninh has developed its shrimp production and marine culture, the sectors are not commensurate with the province's strength and potential.
Quảng Ninh somehow can be proactive with broodstocks of shrimps and marine fishes, but still depends on the market supply of mollusk, raw materials, feed, and animal drugs. The province's productivity of marine culture is not high.
Quảng Ninh plans to spend 8,800ha of land on marine culture by 2025 (accounting for 33% of the total aquaculture area), with the output from marine culture accounting for 65% of the total aquaculture output (about over 59,500 tons).
The average growth rate of output will reach 8% in the period 2020-2025. The production value upon the fixed price will be 4,600 billion dong (accounting for about 68% of the production value of aquaculture)
So as to achieve the plan, the province's agricultural sector has adopted solutions to increase shrimp production and marine culture. The province has focused on further application of technology in each farming model, modernization of production process, and management. Besides, the province has changed nearshore farming into offshore farming and planned the farming area properly.
Đỗ Đình Minh, Head of the Sub-department of Fisheries anticipated that Quảng Ninh would carry out further verification and grant identification numbers to farming areas so as to establish a platform for seafood products to approach the most demanding markets. The province would finalize the overall planning, digitalize the surface water, strictly handle violations in fisheries planning, and terminate spontaneous aquaculture.
VFM