Aquaculture
Sóc Trăng: Artemia farmers suffer damages due to summer heat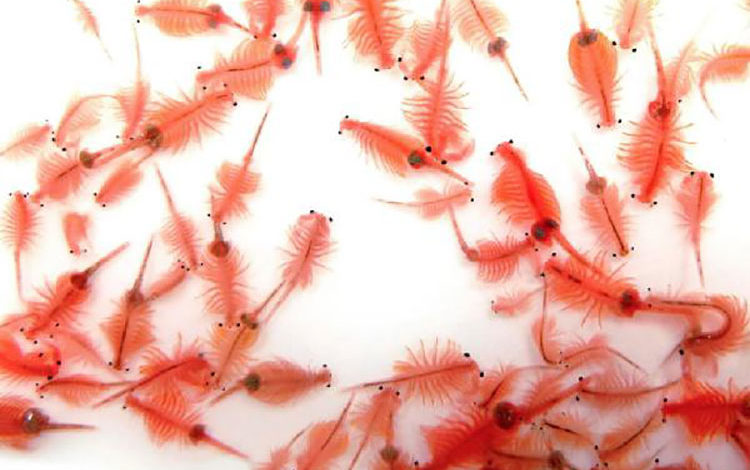 Artemia farmers have faced difficulties over the last two years as the output cysts has reduced due to weather conditions.
Water in ponds was burnt by the baking sun in mid-April, resulting in a decline in artemia cysts. Some were dead due to heat shock.
Lý Chí Hào, in Vĩnh Phước ward of Vĩnh Châu town said: "Never have farmers faced such difficulties in producing artemia as in 2023. A large quantity of artemia was dead earlier this crop due to cold weather, offseason rain, and low salinity. Summer heat in days and cold weather at nights during the harvest time made the output of cysts reduce sharply, leaving a large amount of dead artemia biomass".
"I have five artermia ponds, 1.7 ha in total. Artemia were stocked in Jan 2023 and cysts were harvested 20 days later. I have harvested 30kg of cysts, about 70kg less than last year, and 300-400 kg of biomass so far. Fresh artemia is sold at 1.2 million dong/kg. As estimated, about 100kg of cysts will be harvested in total, down over 50% from the same period last year", said Hào.
Farmer Thạch Hoàng Phương, in Vĩnh Phước ward, said: "I lost about 60% as compared to previous years due to unfavorable weather conditions. I started to stock artemia in early Jan 2023 in a 1.5 hectare land of five ponds. 100 kg of cysts and 500 kg of biomass have been harvested over the last three years. As estimated, about 200 kg of cysts and 1 ton of biomass will be harvested this crop. More than 100 million dong profit may be earned from each crop after production costs".
 Mã Chí Thọ, Head of the Economic Office of Vĩnh Châu town said: "Artemia production has been developed for over 20 years in Vĩnh Châu town as artemia is a high economic value genus with low production costs. Care and prevention of disease outbreaks are needed. Artemia are vulnerable to weather changes which may result in heat shock".
As compared to the same period of 2022, the output of artemia cysts reduces but the price of fresh artemia increases by 200,000 – 400,000 dong/kg and the biomass price is 20,000 – 40,000 dong/kg higher. So as to assure the output at the end of the crop (June 2023) amidst such a summer heat, the Economic Office of Vĩnh Châu town advises local farmers to pump more water into artemia ponds and frequently observe changes to promptly detect and prevent disease outbreaks.
According to statistics, Vĩnh Châu spends 285ha of land on producing artemia, mainly in Lai Hòa commune and Vĩnh Phước ward, harvesting over 17 tons of cysts every year. In 2023, over 5.3 tons of cysts and 12 tons of biomass have been harvested so far. As estimated, the output of cysts in the first months of 2023 is 60% lower than the same period last year. The summer is to blame.
VFM