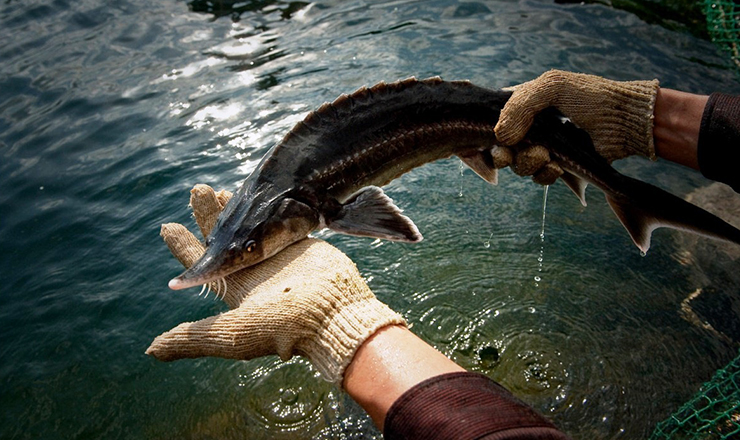 Taking use of water surface in Sơn La lake, farmers in Mường La district of Sơn La province have developed 183 sturgeon farming cages and provides the market with around 50 tons of commercial sturgeon each year.
The company behind the introduction of this model is Vietnam – Sơn La Sturgeon One Member Limited Company who located the cages on 2 hectares of water surface in Lả Mường village of Mường Trai commune, Mường La district. The location is away from the main running stream of Đà river with favorable traffic condition, enabling right process of farming and absolute control of quality, prevention of disease and protection of ecological environment.
Manager of the company Hà Thu Huyền said the farmed sturgeons were imported from Russia including Belgula sturgeons, Russian sturgeons, Le Bao, Lô Rô, Si Ri, RK, SK.
Not only are commercial sturgeons taken good care, but also broodstock gets full nourish for propagation. The company plans to develop their own fish fries in the long run.
Commercial sturgeons are reared in floating steel cages, from 4 to 6 meters deep away from the surface.The lake is surrounded by mesh to take use of advantages from natural environment. The density depends on the fish sizes; therefore, selection must be regularly carried out to adjust the feeding and caring. To produce healthy sturgeons, specialists use industrial feed mixed with low value fish, grinded marine fish, satisfying VietGAP and GlobalGAP.
The company has begun selling commercial sturgeons since late 2016. It earned 11 billion dong from 50 tons of sturgeons in 2017 alone and sold 30 tons in the first three months of 2018. Sơn La sturgeons are now mainly consumed in Sơn La, Điện Biên, Hòa Bình and Hà Nội. The company produces averagely 500 tons of sturgeon per year. It is planning to develop to Hà Nội, Ninh Bình, Thái Nguyên, and Thanh Hóa.
According to Ms Huyền, the company has developed sturgeon farming system in combination with tourism development within the lakein its strategyto welcome visitors. The farming lake is also the place to transfer technical science, exchange aquaculture experiences and provide jobs to residents in some resettlement areas in Sơn La.
Manager of aquaculture Nguyễn Ngọc Lan said the environment of Sơn La lake suits sturgeon farming very well. However, environment protection needs paying attention from cleaning to feed selection and discharge treatment to follow technique. Once it is polluted, and disease outbreak will happen and affects the environment and landscape in a long time.
Sturgeons farmed in Sơn La lake have been certified for VietGAP by Fishery Technology and Services Center of Vietnam in October 2017. Each sturgeon is coded for traceability before being sold to help customers figure out the origin through mobile application. The codes on sturgeon help consumers and control agency to know exact origin, source, farming unit and stocking date.
Sơn La sturgeons are ranging from 220 to 400 thousand dong per kilogram, depending on weight of each type.
Vice Chairman of MườngTrai commune People's committee Lò Văn Hoa said the introduction of sturgeon farming system by the company has inspired local farmers to develop fresh water fish farming. Fish farming in cages of hydroelectric lake has brought some efficiency and stable income for local farmers in Mường Trai commune. Thus, local authorities are calling attention to the fish farming in combination with water and environment protection.
VFM