Aquaculture
Trà Vinh: Farmers are excited with the extensive crab farming project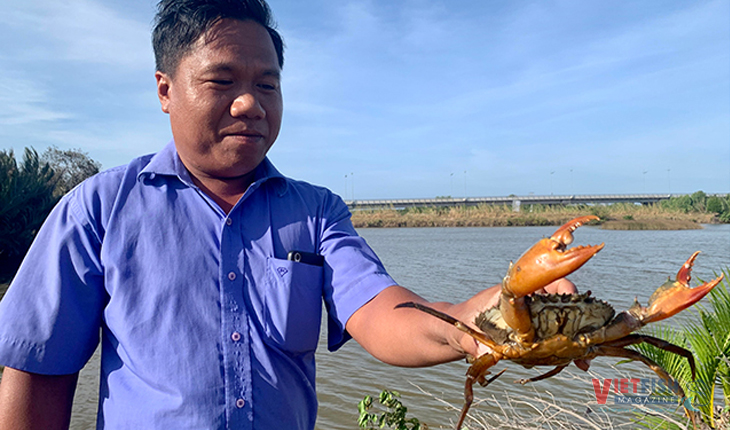 Farmers of the Phước Hội hamlet in Long Khánh commune, Duyên Hải district are so excited with crab farming in combination with extensive black tiger shrimp models these days. This project has been paving a sustainable direction of development for local farmers.
The Netherlands Development Organization SNV, upon the sponsor by the Climate Fund CFM, has developed an extensive model as a livelihood support to help five households in the Phước Hội hamlet, Long Khánh commune whose crab farms were affected by wind farms.
Local farmers are trained with farming techniques while growing ponds are remedied with pumping water out, spreading lime to kill bacteria, providing Hudavil Hud 5 bio-fertilizer, EM1 microbe to strike color of water, and rehabilitating natural feed in growing ponds. 100% of baby crabs (6,000 pcs/household) will be freely provided for stocking twice per year. This model shows good signs after two months from stocking.
After visiting five households who participate the project, Doctor Vũ Anh Tuấn, a consultant expert in MAM said: "Closely follow the process of improving ponds and stocking already tested baby crabs and taking good care of crabs, the average weight of crabs was reported to reach 105g/pc with the big ones growing up to 150g each (account for 15%). The high survival rate of this model promises steady income for local farmers".
Apparently no death has been found in this kind of farm and five households are actively taking care and managing the farmed crabs, supplementing feed, periodically adding Hudavid Hud 5 and EM1- microbe as recommended. Harvest will start when crabs intentionally weigh up at least 250 g after 4.5-5 months of stocking.

Facilities of broodstock production will be checked unannounced
Even though complete solutions were adopted for control and prevention, flaws in seafood broodstock still have been found, especially in post larvae production. More workable solutions are being quickly adopted in the fisheries industry.
Particularly, the Directorate of Fisheries requested the departments of Agriculture and Rural development in provinces and cities directly under the Central to inspect and monitor conditions of production facilities and nurseries of seafood broodstock as regulated. The written directives by the Ministry of Agriculture and Rural Development regarding seafood broodstock management and Instruction no.02/QCPH-GTS dated January 18, 2019 regarding cooperation in managing post larvae of brackish water shrimp, publicity of the list of qualified production facilities and nurseries must be strictly followed. Transportation of broodstock must be controlled, vehicles without Certificate of quarantine must be imposed fine where transported broodstock will be annulled as regulated.
In 2020, Directorate of Fisheries will cooperate with related units to hold patrol and suddenly check production facilities and nurseries in contravention of regulations.
VFM