Aquaculture
Vietnam master the artificial breeding industrial farming technology of yellowfin tropical pompano (Trachinotus blochii)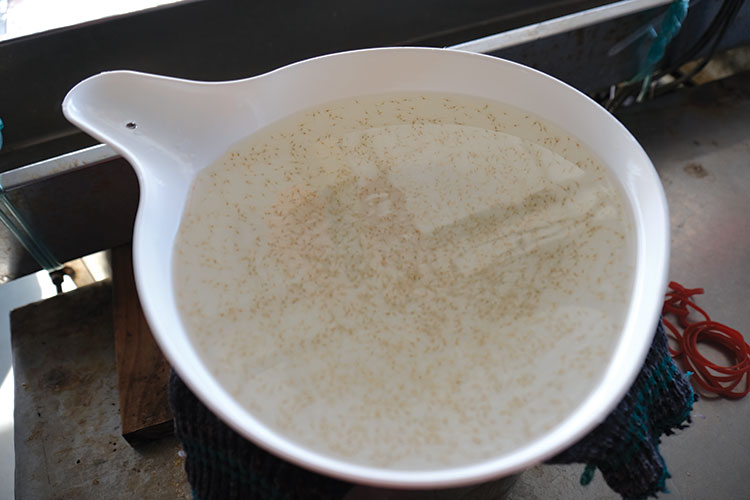 The Research Institute for Aquaculture no.1 (Ria 1) owns a parent stock yellowfin tropical pompano, a high economic value fish that are reared in Vân Phong bay.
The parent stock yellowfin tropical pompano (short fin) owned by Ria 1, which brings about high economic value, is being reared in Bãi Tranh area of Vân Phong bay, Vạn Ninh district, Khánh Hòa province.
The Norwegian style HDPE cages have been used for marine cage farming industrial scale by Ria 1 for the first time, with 22 square-shaped HDPE (diameter 5 x 5 x 5m) being installed.
Chu Chí Thiết from the Aquaculture Sub-Institute for North Central (under Ria 1) said that the Sub-Institute had been assigned to produce and provide broodstock yellowfin pompano by the Directorate of Fisheries since 2018. A total of 232 pairs of broodstock yellowfin pompano (464 pcs) are reared in Vân Phong bay. They are weighing up well to 4-6 kg each on average.
In Thiết's opinion, two or three workers are assigned to monitor the parent stock yellowfin pompano 24/24 for protection and caring assurance. The spawning occurs from December to May (lunar calendar), thus, workers have to monitor the fish to transport eggs to the onshore hatching facility promptly.
Thiết said that the Sub-Institute has mastered the production technology of yellowfin tropical pompano. Specifically, the maturation rate is over 85%, the spawning rate is over 70%, the survival rate from fingerling to fries (size 3cm) is over 17%, and the deformity rate is over 3%.
In the 7,000m2 breeding facility, located in Xuân Tự village of Vạn Hưng commune, Vạn Ninh district, the one-kilogram female fish can give birth to as many as 5,000 fingerlings, according to Deputy Director of the Aquaculture Sub-Institute for North Central Nguyễn Thị Lệ Thủy. The eggs are hatched in a composite plastic tank of 500-1,000 liters with the hatching capacity of 500 eggs/liter. After 2-3 hours of hatchery, fingerlings will be transported to nursery tanks with the stocking density of 40-60 pcs/liter each.
Within 18-22 days, fingerlings are fed by plankton manufactured by the Sub-Institute. After that they are transported to cement grow-out ponds, 22m3 each, and they stay there for about two months and consume industrial feed until they reach the harvest size of 4-5cm each. Then they are sold or taken to round or square HDPE cages in Vân Phong for further nursery or commercial farming.
In Thủy's opinion, around one million broodstocks are produced each year by the Sub-Institute to serve the demand for entirely-closed farming practice of Ria 1 and provide farmers in Quảng Ninh, Hải Phòng, Khánh Hòa, Vũng Tàu, Kiên Giang, etc where fish are reared in offshore cages or saltwater or coastal brackish water ponds at the agreed price of 4,550 dong/pc (size of 4-5 cm/head). 
Industrial scale 
Ria 1 has achieved success in rearing commercial yellowfin pompano in HDPE cages, with the survival rate at the harvest time of 76-84% after 8-10 months of stocking.
Phạm Đức Phương, Director of the Center for Advanced Marine Aquaculture Technology (under Ria 1) said that when broodstocks reach the size of 2-3cm, they are transported to the Center's marine farming facility in Vân Phong bay where they are reared in HDPE cages, 60m in perimeter, 8m in depth, and 2,500m3 in volume.
The round cages can contain 100,000 broodstocks, with a lower survival rate than the hatchery period. After 40-45 days, the fish are stocked in HDPE round cages for commercial farming. The HDPE cages can contain as many as 50,000 yellowfin pompano and produce 25 tons of fish at the harvest time each. 
However, in Phương's opinion, the facility allows only 25,000 pcs/cage with the output of 23,000-24,000 pcs, 0.6-0.7 kilogram each, equal to 15-18 tons/cage.
Since 2018, the facility has been operated steadily with the output of 200 tons/crop. Before the Covid-19 pandemic, about 50% of commercial fish were domestically consumed, and the rest was exported to the US and the Middle East at prices of 110-150 thousand dong per kilogram, earning 20-30% profit. However, due to the pandemic for the last two years, the increase in container charges has resulted in domestic sales only.
This is the first marine cage farming industrial scale, mainly yellowfin pompano, of the country that has been granted VietGAP certificate. Antibiotics are not completely allowed and 100% industrial feed must be used.
VFM
Moreover, Ria 1 has mastered the technology of designing and installing Norwegian style HDPE cages using domestic materials, leaving a 50% reduction of costs as compared to imported cages.