Fisheries
Enhance the effectiveness in fighting IUU fishing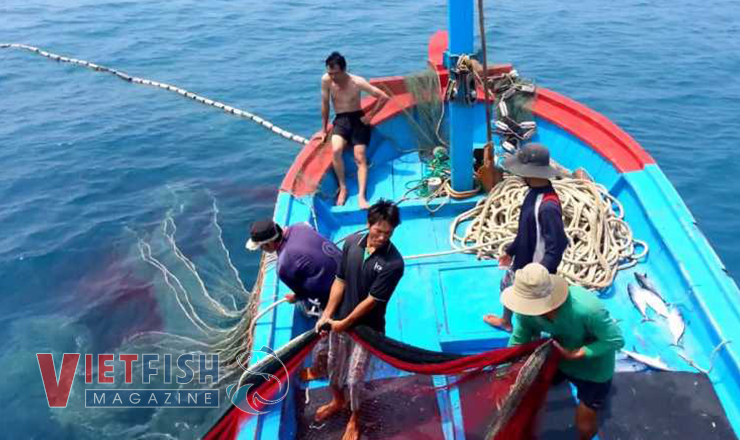 The Government's Office has just issued the notification by Deputy Prime Minister Trịnh Đình Dũng after his first meeting with National Steering Committee (NSC) regarding illegal, unreported and unregulated fishing (IUU).
Change, but slowly
As stated in the notification, the Government and Prime Minister paid special attention and gave strong instructions to quickly remove "yellow card" warning after the country's seafood exports to EU market were imposed the "yellow card".
Some initial achievements have been recognized such as completed legal frame for sustainable fisheries management and development, responsibilities and international integration. Authorities have prevented and terminated fishing boats and fishermen from illegally fishing within sea area of Pacific island countries.
However, Vietnam's effort in fighting IUU fishing has not met requirements in accordance with recommendations given by EC and not brought about considerable changes. There are still some problems unsolved while offices are not good at cooperating with each other and exchanging information. Besides, resources of human, expense and facilities are limited.
Deputy Prime Minister requested NSC members who are leaders of Ministry of Agriculture and Rural Development, relevant ministries, sectors, provincial people's committees and coastal cities to determine their mission of fighting against IUU fishing as the first priority.
Stop illegal exploitation
As for controlling fishing boats that are in contravention of exploiting within illegal sea water area, Ministry of Agriculture and Rural Development is assigned to carry out meetings between NSC and Ministry of Defense (MOD)to work out effective solutions.
MOD must chair and work with 29 provincial people's committees and coastal cities to prevent and stop Vietnam's boats from fishing within illegal water areas. Fishing boats must be checked carefully before departure and arrival. Further patrol, checking and control in the ocean must be carryout to detect and handle cases involved in IUU fishing. MOD must work with relevant offices and organizations to fulfill mission of Inspection Office and control fisheries at fishing ports.
Ministry of Police was assigned to investigate and strictly handle individuals or organizations involved in brokerage or cooperation to take Vietnam's fishing boats to illegal fishing water area, fake registration number, fake painting in the boats to pretend to be local ones and prosecute typical cases to act as a deterrent.
As for surveillance camera system to control fishing boats, Deputy Prime Minister requested Ministry of Finance to allocate reasonable finance for hiring information facilities to monitor itinerary of fishing boats by July 2019. If there is any difficult or challenge, Ministry of Finance must actively give instructions and work with Ministry of Agriculture and Rural Development (MARD) to solve without affecting the schedule of installing surveillance camera system.
Ministry of Information and Communication must actively support MARD to build facilities for surveillance camera of fishing boats, develop the project of Fishery Information phase II, and work with them to evaluate and select the technical consultation company and camera supplier. Vietnam Posts and Telecommunications Group (VNPT) was assigned to work with MARD (Directorate of Fisheries) to carry out some trials of VNPT-VSS system.
28 provincial People's Committee and coastal cities must enhance their direction for installing surveillance camera as regulated.
VFM