Fisheries
Improve efficiency of fishing boat management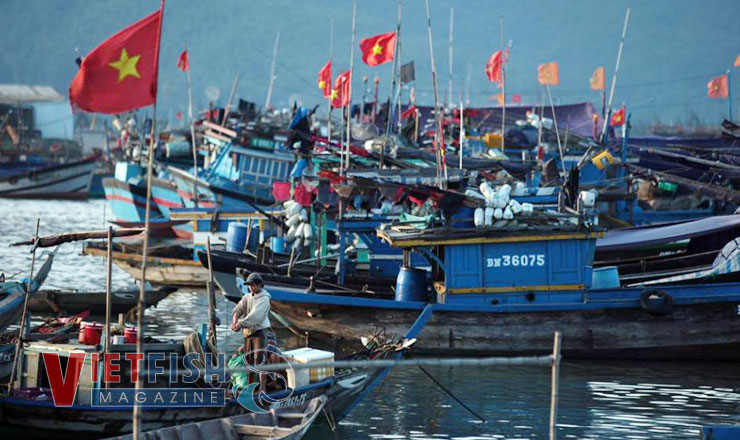 Some articles and implementation method of Fisheries Law 2017 stipulated in Decree 26/2019 by the Government has become effective since April 25. This is a vital solution to management and supervision of fishing boats.
According to leaders of the provincial Fisheries Sub-department, Decree 26 is drawn up to form a legal basis upon which functional authorities will review aquatic exploitation activities of fishing boats and enhance the management and supervision of fishing industry.
There have been some cases where fishing boats went for exploitation in the wrong places. Some over 15m long boats operate in draughty area for twin bottom trawling activities. This causes either bad impact to marine resources along the coast or unsafety to the allowed low capacity boats.
Meanwhile, under 12m long boats came to draughty area for marine species exploitation, causing unsafety to human and resources. However, due to regulations of boat size and overlapping exploited region, it is difficult for authorities to manage and control fishing activities, even there is no sanction article to handle violated cases.
The additional article in Decree 26 stipulates that boats are allowed to operate in coastal area where they are registered, except there is any agreement drawn up by People's Committee regarding fishing activities in coastal area of two provinces. Fishermen operating in coastal areas said that "this regulation create some difficulties for fishermen", meanwhile functional authorities high evaluate this regulation as it contributes to raise awareness of fishermen.
Although resources of marine species have been reduced and fishermen went fishing in water area of other province sneakily, functional forces manage and handle violated case in a very loose way as there is not any specific regulation. However, with the effective Decree, Fisheries Sub-Department will propose Agriculture and Rural Development Department to submit the provincial People's Committee for their consideration and approval of regulations of fishing activities in neighboring provinces.
Besides, Decree 26 stipulates the paint, cross, and markings of fishing boats for each boat size in different water area to facilitate management and supervision of fishing boats. However, due to a large number of fishing boats in the province (over 5,600 pcs), it will be difficult to implement these regulations.
To overcome difficulties in performing these regulations, the provincial Fisheries Sub-department will instruct fishermen with details. Accordingly, regulations of paint, cross, and markings are only imposed on new boats, while the old oneswill be applied with other procedures. As for violated cases, the provincial Fisheries Sub-department will refuse to grant the extension of fishermen's Exploitation License.
VFM