Fisheries
Khánh Hòa: DT Group expand sea grape producing and processing area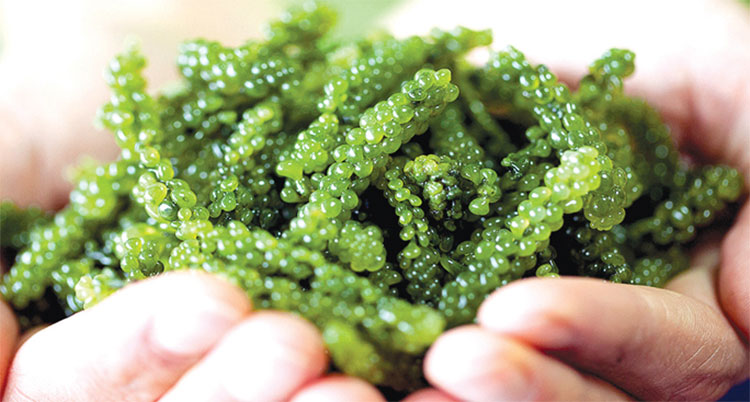 DT Group seaweed company is working out a strategy to expand the material area and invest into an sea grape processing factory for export purposes.
DT Group, based in Vĩnh Lương commune of Nha Trang city (Khánh Hòa province), was established by Nguyễn Quang Duy. DT Group specializes in exporting Okinawa sea grapes. After over ten years, DT Group has now a 75ha sea grape cultivation area, 80% of which was used for sweet snail culture in vain and then shifted to sea grape cultivation by more than 70 households in Khánh Hòa, Phú Yên, and Ninh Thuận. They now earn 30 million per month from the 5,000m2 pond.
DT Group also builds a 8,000m2 processing and packaging facility and a preservation system, providing jobs to 150 local laborers with an average salary of 5-10 million/month.
Nguyễn Quang Duy, General Director of DT Group informed that the company has mastered the technology of producing dewatering sea grape which has been mainly consumed in Japan and the US. This kind of product consists of 80% of sea grapes and 20% of saltwater, recognized by HACCP and FDA for food safety assurance. In Duy's opinion, the company provides Okinawa and Vmax dewatering sea grape products, dried Okinawa sea grape and fresh Vmax sea grape with a total output of over 2,000 tons per year. As much as 70% of these products are exported to the US and Japan, bringing in a revenue of 40 billion dong per year.
Khánh Hòa has over 10,000ha of seaweed cultivation area, producing more than 100,000 tons of fresh seaweed per year. However, as farmers have not acknowledged the value of seaweed, they haven't exploited the full potential of this kind of product.
In the next five years, DT Group plans to cultivate and work with farmers to expand the material farming area, invest into the research and improvement of products and develop more products from seaweed.
 "We are going to launch five dried seaweed products with flavors of salmon, fried garlic, seafood, cheese, and salted egg so as to increase the value. Besides, a 3ha factory with modern machines and technology will be put into operation to satisfy the domestic market and export purpose. Moreover, they will provide training courses to the human resource and apply technology 4.0 into production and sales so that the value of seaweed products will increase", DT Group leader shared.
VFM