Fisheries
Quảng Bình to fight against IUU fishing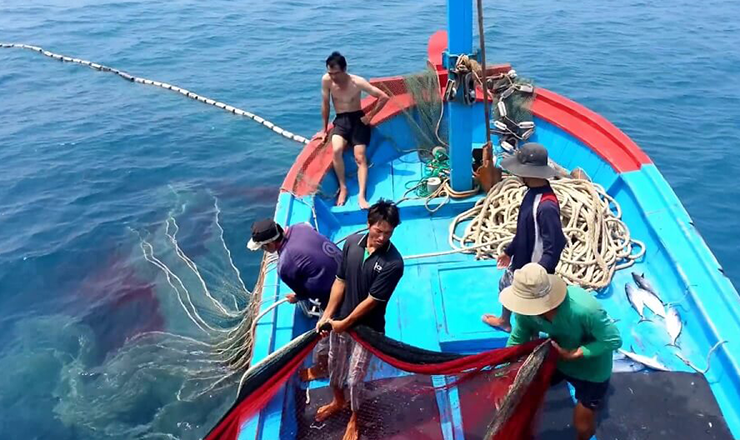 Quảng Bình saw noticeable numbers in fisheries during the first six months.
In the first six months of 2019 QuảngBình's fish catching volume has been stable. Favorable weather has facilitated fishermen to catch fish.
There are four new built boats with capacity more than 700CV and 59 improved ones in the province. Total of 32,000 tons of exploited fish are estimated in the first six months.
Quảng Bình provincial Department of Agricultural and Rural Development keeps the offshore boats under close surveillance to prevent them from attempted fraud upon Decision 48/2010/QD-TTg by Prime Minister and monitors the offshore catching.
Two inspections were carried out in six months with a total expense of 28.5 billion dong. Quảng Bình People's Committee financially supported three inspections worth 154.5 billion dong. So far over 1,500 billion dong has been spent, enabling the development of exploitation and production.
Quảng Bình Provincial Department of Agricultural and Rural Development advised the People's Committee to perform the Fishery Law 2017 and related instruction document to fight against illegal, unreported and unregulated fishing (IUU), remove the "yellow card" warning given by European Commission (EC) and improve the representative office of inspection affairs and fisheries control activities.
Quảng Bình Provincial Department of Agricultural and Rural Development, Fisheries Sub-department and local and sea border defense stations carried out six inspections and settled 24 violated cases with pecuniary penalty of 225 million dong. Cases involved in contravention of fishing regulations are twin bottom trawlers from the outside province that operated in the wrong water area, stored and used electrical tools for illegal fishing.
In the last six months of 2019, Quảng Bình intends to boost offshore exploitation activities, upgrade process and storage equipment to reduce loss after catching. "Upon the financial support by the Government in Decision no.48, Decree no.67 and Decision no.12, the province helps fishermen recover their work after the sea environment incident, encourages them to change into the other catching practices, develops effective practices and reduces failure, boosts the surveillance and aims to terminate twin bottom trawlers. The province invests into building anchorage areas for fishing boats to land during storms, fishing ports and facilities for fisheries logistics services", said Director of Quảng Bình Provincial Department of Agricultural and Rural Development Phan Văn Khoa.
VFM