Fisheries
Quảng Ngãi establishes an inspection team to fight against IUU fishing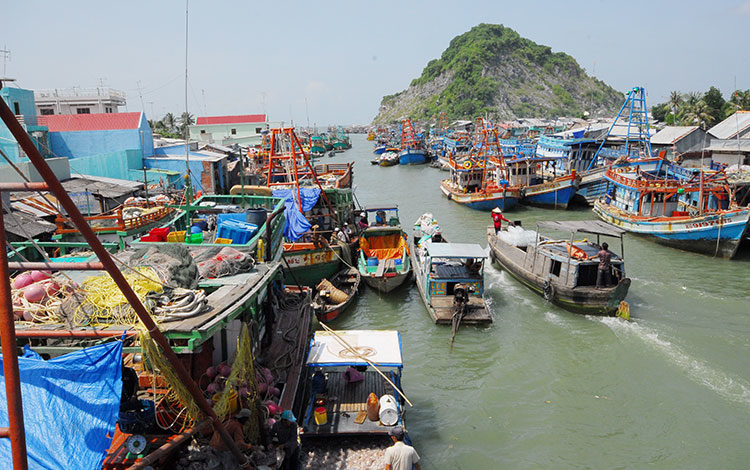 In the afternoon of October 04, Quảng Ngãi provincial People's Committee announced the Decision of establishing an Inspection team to fight against the illegal, unreported and unregulated fishing (IUU fishing) in local fishing ports and coast guard stations. 
The inspection team consists of seven members led by Trần Phước Hiền, Vice Chairman of the provincial People's Committee and Head of the Steering Committee Board of IUU.
The units under the inspection include the Management Board of Tịnh Kỳ fishing port and the Representative Office of fisheries control at port, Sa Kỳ Border Guard Station, Management Board of Sa Huỳnh fishing port and the the Representative Office of fisheries control at port, and Sa Huỳnh Border Guard Station.
The inspection team is assigned to examine fishing vessels and supervise the seafood output in fishing ports, examine the IUU fishing activities in fishing ports, review the recording and handing in of logbooks and confirmation of exploited materials, and review documents related to the fight against IUU fishing. The team will also examine the control of vessels in and out carried out by the Board Guard Station.
The inspection team will supervise the procedures of checking fishing vessels and seafood output at ports, and the control of fishing vessels at Board guard stations. Matters related to environmental cleaning and firefighting and prevention at fishing ports will be under examination.
The Quảng Ngãi provincial Department of Agriculture and Rural development said that the province had 4,554 fishing vessels registered and identified as of September 2022, 3,424 fishing vessels granted and regranted Seafood exploitation license as quota, with 2,859 vessels being at least 15m long, accounting for 88.76%. Besides, as many as 2,921 fishing vessels have already installed the surveillance system, accounting for 90.69% (if 161 vessels staying idle are excluded and 76 vessels working outside the province for years without coming back, this rate will be 98.04%).
63 fishing vessels have not installed the surveillance system. Most of them have low capacity and engage in exploiting small fish. They mainly work at the nearshore and are not well managed.
VFM
The inspection team consists of seven members led by Trần Phước Hiền, Vice Chairman of the provincial People's Committee and Head of the Steering Committee Board of IUU.
The units under the inspection include the Management Board of Tịnh Kỳ fishing port and the Representative Office of fisheries control at port, Sa Kỳ Border Guard Station, Management Board of Sa Huỳnh fishing port and the the Representative Office of fisheries control at port, and Sa Huỳnh Border Guard Station.
The inspection team is assigned to examine fishing vessels and supervise the seafood output in fishing ports, examine the IUU fishing activities in fishing ports, review the recording and handing in of logbooks and confirmation of exploited materials, and review documents related to the fight against IUU fishing. The team will also examine the control of vessels in and out carried out by the Board Guard Station.
The inspection team will supervise the procedures of checking fishing vessels and seafood output at ports, and the control of fishing vessels at Board guard stations. Matters related to environmental cleaning and firefighting and prevention at fishing ports will be under examination.
The Quảng Ngãi provincial Department of Agriculture and Rural development said that the province had 4,554 fishing vessels registered and identified as of September 2022, 3,424 fishing vessels granted and regranted Seafood exploitation license as quota, with 2,859 vessels being at least 15m long, accounting for 88.76%. Besides, as many as 2,921 fishing vessels have already installed the surveillance system, accounting for 90.69% (if 161 vessels staying idle are excluded and 76 vessels working outside the province for years without coming back, this rate will be 98.04%).
63 fishing vessels have not installed the surveillance system. Most of them have low capacity and engage in exploiting small fish. They mainly work at the nearshore and are not well managed.
VFM