Fisheries
Quảng Ngãi: Fishermen enjoy bumper catches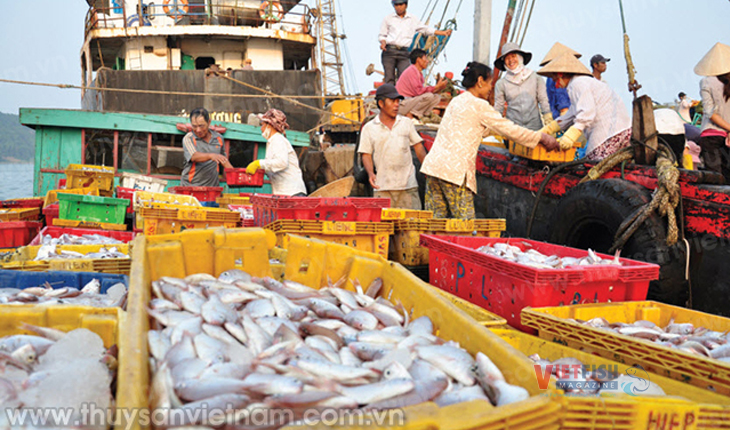 Fishermen in the coastal area of Quảng Trị province have continuously caught a big quantity of aquatic species ver the past month.  Potato fish, pompano, squid, crabs, snails, etc., are caught in enormous quantities.
This is a positive signal for Quảng Ngãi fishermen after a long time being impacted by natural disasters and the COVID-19 pandemic. Therefore, this crop is expected to achieve a high yield to meet the market demand for Lunar New Year 2021.
Triệu Lăng commune has the largest number of fishing boats in Quảng Trị province with 322 boats, capacity from 9-24 CV. According to the local authorities, the overall output of seafood in the area exceeded 356 tons in October with an estimated revenue of more than 1.7 billion VND.
Grade 1 portunus armatus for export are currrently priced between 170,000 and 200,000 VND/kg; flower crabs are priced at 50,000 – 70,000 VND/kg; butterfish are 100,000 VND/kg; and bumalo are 70,000 -100,000 VND/kg.
According to boat fishermen, since the beginning of September, each trip has yielded fishermen about 10-15 kg and 5 kg of pompano. Each day, they earn 500.000 VND -1.5 million VND. As soon as the storm passes, many fishermen go out to the sea twice a day to earn extra money. 
According to the Fisheries Sub-Department of Quảng Trị province, 217 fishing vessels are issued fishing licenses as prescribed; in which, the offshore area is 190/273 licenses; the inshore area is 22/176 licenses; the coastal area is 5/863 licenses.
In October, the estimated fishing output of the province was 1,007 tons, with sea exploitation accounting for 880 tons, a significant rise over the same period in 2020. The seafood output in the first 10 months of 2021 was about 31,874 tons, equaling 101.3% over the same period in 2020, achieving 86.2% of the plan.
Fishermen in the coastal areas can a variety of seafood thanks to favorable weather. People are thrilled to go out to sea the output was higher than in the same period in 2020.
In order for fishermen to be able to exploit seafood resources sustainably, the functioning authorities have directed farmers to exploit in the legal regions without violating the Law on Water Resources 2017. In particular, those who live in coastal areas are encouraged not to use destructive fishing practices to protect fishing grounds.