Fisheries
Results obtained after working with the Inspectorate of the EC about IUU fishing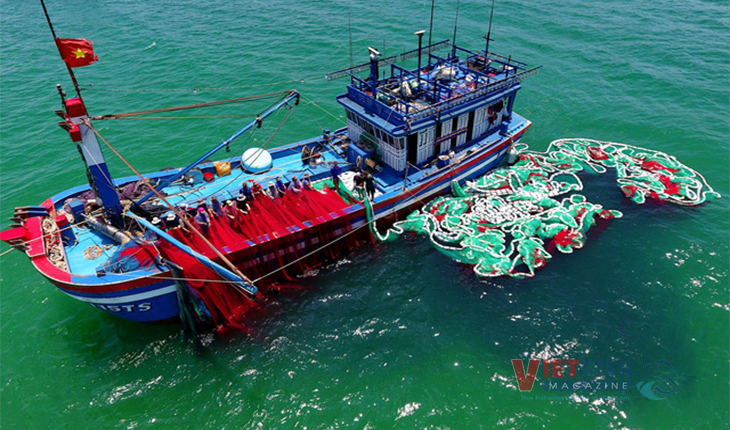 The Directorate of Fisheries under the Ministry of Agriculture and Rural Development has just held a conference recently announcing the results obtained from the working sessions with the Inspectorate of the EC  the IUU fishing. Some issues underlined the two online working sessions between two parties.
According to Nguyễn Thị Trang Nhung, Deputy Head of the Department of Science and Technology and International Cooperation of the Directorate of Fisheries, the two online working sessions in July and October 2020 between the Directorate of Fisheries (DoF) and the EC Inspectorate about the IUU fishing pointed some issues that Vietnam has not solved, such as: fishing boat management, especially boats trespassing foreign water, inefficient management of exploited output, the differences in enforcement of the IUU fishing law among areas.
Mounting an effort to remove the EC's "yellow card" warning, the provincial fisheries industry will focus on implementing 17 solutions given by the DoF. Firstly, they will continue to prevent fishing boats exposing signs of violating IUU fishing regulations and stop fishing boats from trespassing foreign waters. Besides, they will solve problems in controlling boats departing and arriving at ports so as to manage 100% of logbooks of the fishing boats and assure the traceability of fishes going to the EU market. Moreover, any boats in contravention of IUU fishing regulations, under the Decree no.42 (2019) by the Government about administrative fine in the fisheries industry, must be strictly handled. Any boats arriving at ports, unannounced, and any boats without installing or remaining the operation or disarm surveillance cameras will be punished first.
Nguyễn Trung Hiếu, Director of the Hòn Rớ fishing port management board said that province still has 133 fishing boats not install the surveillance cameras and many refuse to register for food safety certificates. In the next few months, the fishing port management board will work with relevant agencies to carefully handle this problem by prohibiting those boats from departing.
Nguyễn Quang Hùng presumed that after more than three years of making efforts to remove the "warning card", many provinces including Khánh Hoà have proved their great efforts in implementing EC's recommendations. The province's determination in prohibiting and fully stopping fishing boats from trespassing foreign waters will be one of necessary conditions for the EC to consider their decision of removing the "warning card" from Vietnam. However, in the next few months, the province must adopt measures on fighting against IUU fishing as soon as possible and synchronously to achieve a real breakthrough.
VFM