Fisheries
Vietnam determines to remove the IUU yellow card by late 2021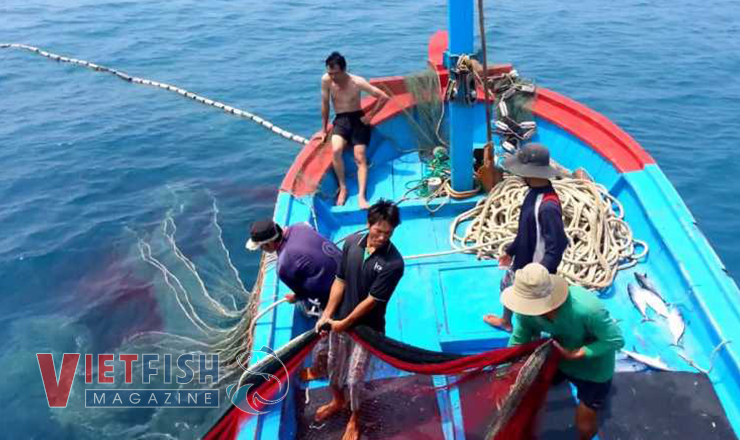 The Prime Minister has made requests for further concentration on implementing countermeasures against IUU fishing in an effort to remove the EC's yellow card by the end of 2021.
The Government's Office has just issued a Notification no.245/TB-VPCP regarding the conclusion made by Prime Minister Phạm Minh Chính in an online meeting about fighting against IUU fishing and removing the "yellow card" imposed by the European Commission.
The Notification emphasizes that the National Steering Committee on IUU fishing, Ministry of Defense, Ministry of Foreign Affairs, Ministry of Police and Authorities of twenty-eight coastal provinces and cities are required to fulfill the target by the end of 2021 so as to stop fishing vessels from trespassing foreign territorial water and remove the EC's yellow card. 
The Prime Minister requests the Ministry of Agriculture and Rural Development to keep reviewing and completing a legal framework and institution to perfectly manage seafood exploitation and strictly handle violated fishing vessels. Seafood certification, confirmation and traceability must be paid attention to for smooth exports. 
The vessel monitoring system should be used effectively and its data must be exploited to punish violated vessels. Fishing vessels and the crew must be carefully checked when they port in and port out. And marine catch must be inspected when loaded or unloaded at the port. 
Activities related to international cooperation about fishery and IUU prevention between Vietnam and countries should be implemented, moreover, regional and international fishery activities should be held. Obligations and commitments related to international fishery agreement and convention, that Vietnam is a member or participates to prevent, eliminate and erase any IUU fishing activities, must be fulfilled. 
The Ministry of Planning and Investment gives priority to allocate the mid-term public investment source, period 2021-2025, and other capital sources so as to upgrade the fishery infrastructure system, fishing ports, storm shelters, and fisheries information management system for the sustainable fisheries development and international integration.
The Prime Minister requests the Ministry of Information and Communication (MIF) to promptly examine and issue a plan of decreasing satellite rental fee so that all fishing boat owners can afford to install the vessel monitoring system. MIF is also requested to disseminate the country's effort in preventing and fighting against IUU fishing activities and commend organizations and individuals for their actions of fighting against IUU fishing.
Local seafood management units should be provided with human resources and equipment to assure effective implementation. The infrastructure of fishing port type II and III and storm shelters should be improved. Individuals and organizations should be encouraged to participate in investment and management of local fishery facilities. 
VFM