Markets
An average of 40 tonnes of sea grapes are shipped abroad each month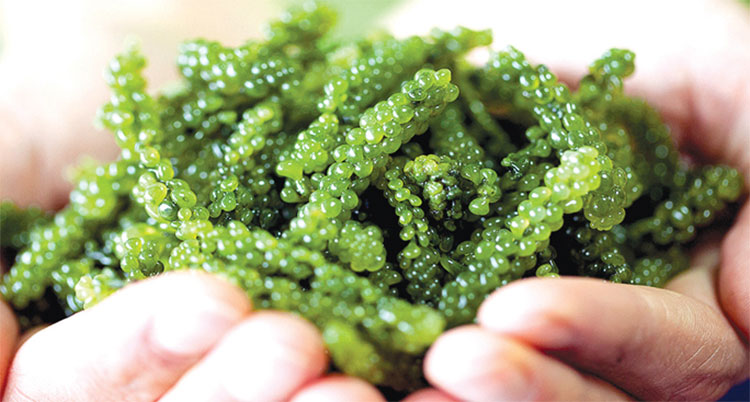 Sea grapes offers a boost for coastal provinces' blue economy. This kind of seaweed has been grown experimentally and developed in eight coastal provinces: Khánh Hòa, Bình Thuận, Ninh Thuận, Vũng Tàu, Kiên Giang, Phú Yên, and Bình Định.
The seaweed product made in Khánh Hòa has penetrated into more and more markets after Japanese standards were applied in dewatering technology and seaweed breeding was paid attention to. A package of seaweed 100gr which has 80gr of seaweed and 20g of salt water can be preserved within one year.  General Director of Duy Trang Group, addressed in Vĩnh Lương commune of Nha Trang province, Nguyễn Quang Duy has been regarded as the "king" of seaweed in Khánh Hòa. His company's seaweed products are qualified to be exported to major markets such as Japan, the US, Taiwan (China). 
He has 30ha of seaweed farms located in different areas in the province, and cooperates with other 70ha of seaweed farms owned by farmers in Ninh Hải ward, Ninh Hòa town, Vạn Giã town, Vạn Ninh district (of Khánh Hòa province), Sông Cầu town (of Phú Yên province), and Cà Ná (of Thuận Nam district, Ninh Thuận province). The total area of the seaweed farm has reached up to nearly 100ha. Duy's seaweed farms are checked by Japanese experts and recognized as the farms producing high quality and valuable seaweed products. 
Duy shared that in 2014, Japanese experts came to sea grapes farm in Ninh Hải to examine  the product under a cooperation programme. The local sea grapes there were of the same quality as those grown in Okinawa in Japan.
The product was then exported to Japan. After that, in a program of learning experiences from seaweed producing partners, he had the chance to learn about the process in Japan to ensure the tight standard and requirement of this market.
In 2021, Duy exported his product to two major importers of Japan anf the US. An average of 40 tonnes of sea grapes are shipped abroad each month, during the peak months, it can rise to 150 tonnes. Even though his seaweed is known to many countries in the world, he hopes this product can be consumed by the domestic market. 
Duy's seaweed growing model is a chain system based on cooperation with farmers. He advances funds anf seeds and support them with cultuvation techniques and buys sea grapes for farmers.
aLê Bền, Vice Chairman of the Vietnam Marine Farming Association said that nearly ten coastal provinces, Khánh Hòa, Bình Thuận, Ninh Thuận, Vũng Tàu, Kiên Giang, Phú Yên, Bình Định, and Quảng Ninh, are farming seaweed and developing the seaweed sector. He evaluates that this is promising marine farming industry, bringing great economic value. Sea grapes growes should follow the technical process that has been proved to be sustainable to ensure long-term profits and high quality for the product. 
VFM