Markets
A bigger amount of imported raw materials is needed for seafood export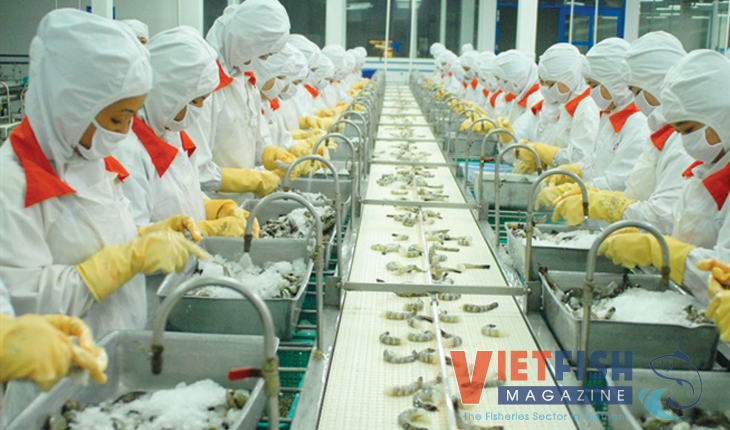 Around US$1.8 billion worth of raw materials may be needed for seafood export production by 2019, according to VASEP's general secretary Trương  Đình Hòe.
Almost US$150 million worth of monthly imported material
According to Hòe, as many as 90 – 95% of the imported seafood to Vietnam is fresh/frozen with the value seeing an increase from US$541 million worth in 2011 to US$1.7 billion in 2018. In the first half of 2019, Vietnam's imported seafood volume slightly rose by 2% from last year, reaching over US$879 million. The monthly average import value to Vietnam is nearly US$150 million, leaving an estimate of US$1.8 billion by the end of the year.
The import of tuna increased by 36%, valued at US$232 million, accounting for 26% of the total imported products to Vietnam, while octopus increased by 20% (US$71 million), crabs reached US$31 million, and other marine fish rose by 10% (US$368 million) and accounted for nearly 42% of total imported products. Meanwhile, the import of shrimp saw a sharp decrease by 42%, worth US$151 million, accounting for 17% of the imported products.
The fresh/frozen products, which are served for processing exports, accounted for 94% of the seafood import value, reaching US$82 million. Vietnam imported the whole fresh/frozen marine fishes most, accounting for 33%.
The data shows that 90% of the imported products have been served for reprocessing exports, processing exports, and reprocessing upon foreign companies' requirements.
An inevitable trend
According to VASEP, the importing of seafood to serve reprocessing exports is an inevitable trend which helps retain and strengthen Vietnam's position in the global market.
For years, the domestic source of raw material has failed to meet the increasing global demand for Vietnamese seafood products. The country, therefore, had to import raw materials from other countries to serve its reexports, retain its seafood export volume and strengthen the global competitiveness of Vietnamese companies.
The imported materials have helped Vietnam to increase its seafood exports by 24-30% in the last five years, giving the country the rank of third biggest seafood exporter in the world, trailing China and Norway.
The marine product exploitation has seen slow growth in the past few years and just some of the exploited products satisfied the requirements for exports. Changing climate and natural disasters have affected the crop schedule, leaving the sale contracts between farmers and companies unfulfilled. Some species have been taken out of the list of key Vietnamese exported products such as herring, gizzard-shad, and seabream, and some have decreased in quantity like stingray, starry triggerfish, king snapper, cyprinid, cuttlefish, and octopus.
Thus, importing raw materials to serve reexports is an optimum solution for domestic companies to handle the growing shortage of raw material.
Even though the shortage of domestic raw material can be handled by increased production, the quality will be another problem which can not be solved in the blink of an eye. Imported raw materials then will help Vietnamese companies retain their exports and reprocessing, bringing real benefits to local farmers, fishery industry and national economy.  
"As the processing technology has been developed and local workers are becoming more and more skillful, an increase in domestic raw material will be possible. Then, Vietnamese companies should either take advantage of the domestic raw materials or be flexible in using the imported ones to serve the exports", said Hòe.
VFM