Markets
Opportunities for AnGiang's agricultural products in the EU market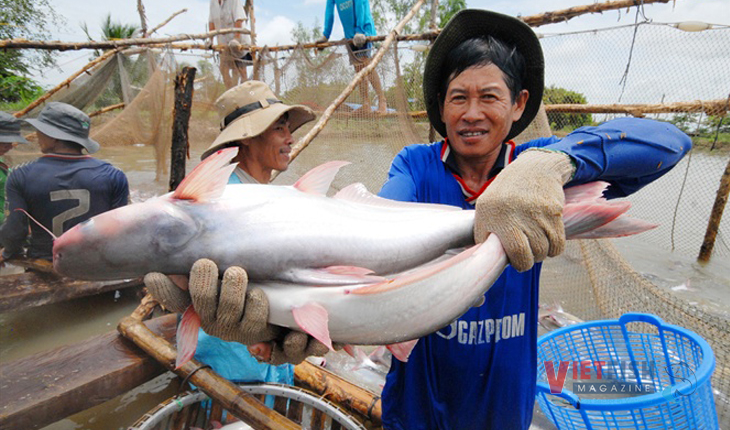 On 02 November, the delegation of the European Parliament's Committee on International Trade (INTA), led by the INTA President and Vice President of the Europe-Vietnam Parliamentary Friendship, went on a patrol in some seafood companies of An Giang province and visited the organic pangasius farms at the spring head of the Hậu river.
During the patrol, Vice Chairman of An Giang People's Committee Trần Anh Thư said that An Giang is the key agricultural production province of the country with major products like rice, pangasius, vegetable and fruits. AnGiang's agriculture authorities are paying attention to quality improvement and standard satisfaction such as VietGAP and SRP. An Giang has 1,200 hectares of pangasius farm with annual production of 400,000 – 450,000 tons of commercial pangasius. There is as much as 451 hectares of pangasius to be farmed in accordance with ASC, BAP and Organic schemes in the province. An Giang has now nine companies related to pangasius export.
After visiting the pangasius processing factories and Organic pangasius farms that belong to the closed production chain from farming, process to consumption that has been developed by An Giang's seafood companies, Mr Jan Zahradil was surprised by seeing the provincial companies applying the advanced technologies in aquaculture and processing of pangasius for export. He thought the province's agricultural products, especially pangasius, has much potential for expanding its market share in the EU market.
"The food made of Vietnamese pangasius is delicious and I am ready to support the An Giang's processed pangasius companies to exhibit and introduce their products in the EU's fairs and exhibitions. Beside this, I can introduce some of AnGiang's companies to some restaurants in the Europe and Czech", said Jan Zahradil.
Vice Chairman of An Giang People's Committee Trần Anh Thư said that some of An Giang's companies related to export the pangasius and agricultural products are not catching up with the EU's requirements of importing agricultural and seafood products.
Mr Thư hopes the EU to continue helping An Giang and other provinces in the Mekong Delta with solutions to climate change and disaster prevention and introduce the provincial companies to the EU's companies and groups, especially when two parties have just put their signature to the the EU-Vietnam.
VFM