Markets
Prices of shrimp in western provinces went up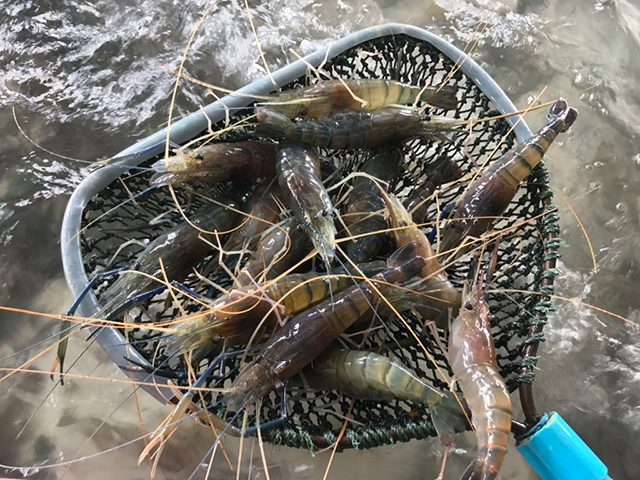 Prices of white leg shrimp and black tiger prawn in western provinces remained high in the run up to the end of the 2021 shrimp crop. Shrimp size 20 pcs/kg increased by 10,000 dong.
Farmers in western provinces are rushing to harvest the last shrimp crop of the year to prepare for the 2022 shrimp crop. The fewer shrimps are on the farm, the higher prices will be.
Lưu Trường Giang, representative of Tấn Phát Seafood Import Export Company Limited in Trần Đề district of Sóc Trăng province said that they had just sent workers to harvest 30 tons of whiteleg shrimp, size 60-100 pcs/kg from six farms of farmers in Trần Đề and Cù Lao Dung districts. Shrimp size 60 pcs/kg was sold at VND 131,000, shrimp size 100 pcs/kg was sold  at VND 106,000, leaving an average of VND 250-300 million profit earned from each farm.
Shrimp size 20 pcs/kg has been sold at the highest price. Shrimp 20 pcs/kg was sold at VND 240,000 one month ago, but now it has increased by VND 250,000. Shrimp size 25 pcs/kg remained at VND 190,000, shrimp size 30 pcs/kg was sold at VND 172,000, shrimp size 40 pcs/kg was sold at VND 153,000, and shrimp size 90 pcs/kg was sold at VND 115,000.
The Sóc Trăng provincial Sub-department of Fisheries said that the local aquaculture and seafood exploitation has been basically stabilized and the disease outbreak has been well controlled, leaving less damages than the same period last year. However, the fisheries sector has to face challenges due to the decreasing prices of commercial shrimp, especially the slump of prices of shrimps purchased at the farmgate after the Instruction no.16. Meanwhile, prices of shrimp feed, gas, and other production costs increased.
According to the 2022 plan, Sóc Trăng's farming area would be 51,030 ha, with 13,000 ha being used for giant tiger prawn, 38,000 ha being used for whiteleg shrimps, and 30 ha being used for giant river prawn. The province's shrimp output is estimated to reach 202,000 tons (25,000 tons of giant tiger prawn,  171,000 tons of whiteleg shrimp, and 6 tons of giant river prawn).
In Bạc Liêu, prices of whiteleg shrimp increased but not much higher than that of giant tiger prawn. Trader Lê Văn Dũng in Phước Long (Bạc Liêu) said that he spent VND 250,000 on buying giant tiger prawn size 20 pcs/kg, and VND 190,000 on shrimps size 30 pcs/kg.
Đỗ Ngọc Tài, Director of Ngọc Thái Ltd,. Co in Giá Rai town of Bạc Liêu province said that his company was coping with difficulties of insufficient material and labor due to the impact of the Covid-19 pandemic.
Ngọc Thái and enterprises managed by Tài in Sóc Trăng and Bạc Liêu have suffered from the same situation amidst the increasing demand of shrimps for export at the end of the year.
"We lack materials because farmers were not allowed to stock shrimp following the Instruction no.16 a few months back. In October and November, even though the province relaxed the social distancing scheme, local farmers face difficulties in rearing shrimps due to bad weather", said Tài.
"The number of workers decreased by 20-25% and around 40-45% of them are allowed to go to work now. The lack of workers was driven by the Covid-19 infection, prohibition from their families, and the isolation regulation of F1 cases", explained Tài.
The company's owner, who has been working in the fisheries sector for 40 years, said that was the first time the production cost had increased like that. Besides expenses on nCoV tests for workers, shrimp enterprises had to suffer from the increase in the costs of packages, raw materials, chemicals, and transportation. 
"The production costs rise further 20%, however, we can not increase the export price of shrimp as the contract was already signed a few months ago. Shrimp enterprises have suffered from losses for three months", the owner of an enterprise in Cà Mau shared.
VFM