Markets
Quảng Ninh: Modernize the seafood processing sector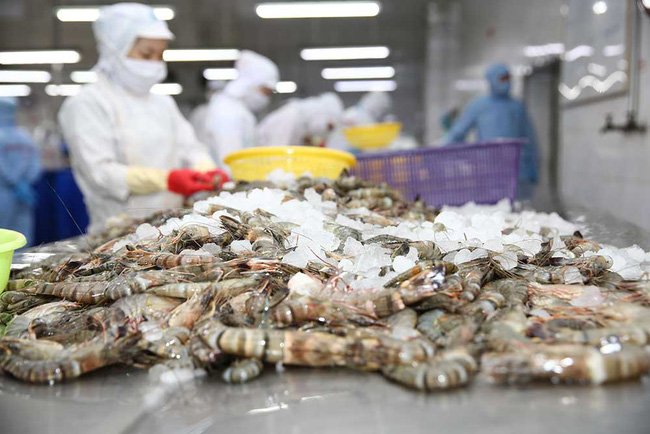 With a strategy of becoming the center of seafood processing and logistics of the Red River Delta, Quảng Ninh's seafood processing companies have been modernizing themselves for export promotion.
Quảng Ninh has nine seafood processing factories with freezing capacity of 100 tons/day, cold storage capacity of 6,700 tons, and frozen vault of 200 tons/day. The total capacity of production reaches about 7,500 tons/year, with the demand for material ranging between 10,000 and 12,000 tons/year.
As of 2020, the province earned USD 93.6 million from exporting seafood, with sales of material reaching USD 50 million and processed seafood for export purposes reaching USD 25 million per year, leaving an average growth of 4.1%/year with the majority of frozen processed products. The main destinations were Japan, the EU, Korea, and China. Quảng Ninh's exportation of seafood products to the EU are benefiting the GSP (​​​​Generalized Scheme of Preferences) tariff, 4.2-7%. 
Quảng Ninh has 175 seafood processing and preliminary treatment facilities for domestic consumption. Most of them are small-scaled and mainly produce fish sauce, squid rolls, dried seafood, and floss which are valuable, registered trademarks, and participate in the province's OCOP program. 100% of the provincial seafood processing facilities have applied the quality control system for food safety assurance given by HACCP.
With an aim to bring Quảng Ninh's seafood products to the world, seafood processing companies have been investing and updating technologies so as to improve productivity and product quality. In 2014, BAVABI was officially established with a production facility being built in a 400m2 land in Đông Xá commune of Vân Đồn district, which was equipped with modern machines to process seafood material into the district's unique products such as oyster floss and mantis shrimp floss.
BAVABI's Director Phạm Thị Thu Hiền said that through training courses and instructions of equipments used for quality and productivity improvement provided by the province, the company changed its material facilities to satisfy the standards of ISO 22000 and HACCP.
Accordingly, the company was able to supervise the whole process of food production, from material treatment to packaging, preservation and distribution to consumers for food safety assurance.
Deputy Director of BNA Ba Che Seafood JSC Company Nguyễn Ngọc Ấm said that the company has focused on developing a supply chain so as to connect aquaculture units and create a qualified production chain to satisfy the market. BNA Ba Chẽ is the leading seafood processing factory in the North which has been certified for material facilities and production process in accordance with HACCP standards by the National Agro-Forestry-Fisheries Quality Assurance Department (under the Ministry of Agriculture and Rural Development).
Ấm added that the company would invested into an institute for oyster research and a factory to make oyster products in Vân Đồn, period 2022-2025.  Moreover, the factory of processing high quality food in Nam Sơn industrial zone will be widened, period 2025-2030. Together with exportation, the company will start to exploit the domestic market through food stores.
VFM