Markets
Seafood exports projected to reach USD 12 billion by 2025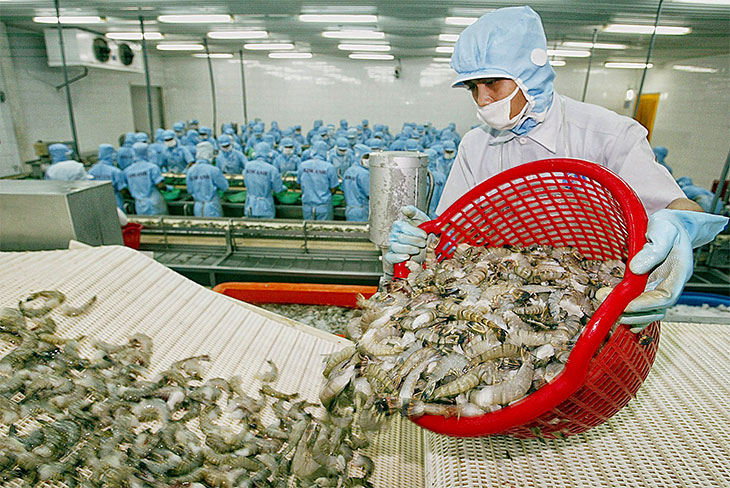 Seafood exports are projected to maintain a steady growth rate in the following years, reaching approximately USD 12 billion by the end of the 2021-2025 timeframe.
Seafood exports will reach USD 12 billion by 2025
According to the Vietnam Association of Seafood Exports and Processing (VASEP), Vietnam's seafood exports increased by an average of 5% between 2016 and 2020, reaching USD 8.4 billion in 2020. Shrimp exports were USD 3.7 billion, tra fish exports totaled USD 1.5 billion, and seafood exports totaled USD 3.2 billion.
Exports have varied over the last five years owing to fluctuating demand and competition in global markets, as well as significant roadblocks such as anti-subsidized tariffs on shrimp and tra fish in the US market, and an IUU yellow card from the EU, among others.
Despite fluctuations, Vietnam's seafood exports have been increasing. VASEP forecasts that seafood exports would increase by an average of 7% yearly between 2021 and 2025, reaching USD 12 billion in 2025. Shrimp exports are expected to reach USD 5.5 billion, tra fish exports are estimated at USD 2.3 billion, and seafood exports are predicted to hit USD 4.2 billion.
By 2025, the total volume of seafood exported will be 6 million tons, comprised of 4.7-4.8 million tons of domestic production and 1.2-1.3 million tons (about 2.4-2.6 billion USD) of raw materials imported from other countries for export production and processing.
VASEP's opinion that fish exports would continue to rise in the future years is based on the Covid-19 epidemic, which temporarily lowers the demand for seafood but molds the online trade trend and boosts retail sales. The pandemic also fosters the habit of cooking at home, demand for retail items (supermarket channel) has risen, along with an increase in demand for convenient, instant, and ready-to-eat products (canned food, dry goods, convenient meals…).
From 2021, the Covid-19 pandemic will also boost demand for goods with moderate costs that are accessible to people with low incomes: fish, tiny shrimp, and some marine fish species… Consumers are becoming more concerned with the product's supply chain's transparency, traceability, sustainability, social responsibility, and environmental sustainability.
It's amazing that several of Vietnam's main export seafood items, such as shrimp, tra fish (pangasius), tuna, crab, and bivalve mollusks, are among the world's most consumed aquatic species. Shrimp demand, in particular, will stay steady in the future years due to its popularity among customers in key countries such as the United States, the European Union, Japan, and Australia. Whitefish demand (particularly pangasius) continues to grow. Due to the post-pandemic economic scenario, demand for whitefish and certain small pelagic fish species is projected to rise more than other global markets.
VASEP thinks that the source of raw materials for export during the next five years, which is very varied (farming, local exploitation, and legal import), will be critical in establishing Vietnam's seafood's competitiveness. The seafood sector has a tendency to expand raw material imports from other nations for export production and processing, maximizing processing capacity and guaranteeing a steady and quality supply in the worldwide market. It is anticipated that Vietnamese seafood's strength in the global market will continue to be its reliable raw materials and sophisticated processing capability.
Domestic consumer demand, which is anticipated to account for about 20% of sales, will also substantially contribute to the growth of the seafood sector. Additionally, infrastructure for production and export (bridges, ports, traffic, and cold storage) will be invested in and upgraded more from the budget and even the public sector, benefiting seafood production and export.
Bilateral and multilateral free trade agreements, as well as trade promotion efforts (branding goods, boosting seafood imagery, and linking trade, for example), will be the next positive elements affecting the growth trend of Vietnam's fisheries.
However, Truong Dinh Hoe, General Secretary of VASEP, predicted that the fish sector would confront a variety of challenges, including high production costs, market volatility (demand, regulations, tax policies, and obstacles), and a growing trend toward sustainability certification. These will be ongoing problems that the fish industry must address with increased expenses and difficulty.