Markets
Prices of pangasius material continue to stabilize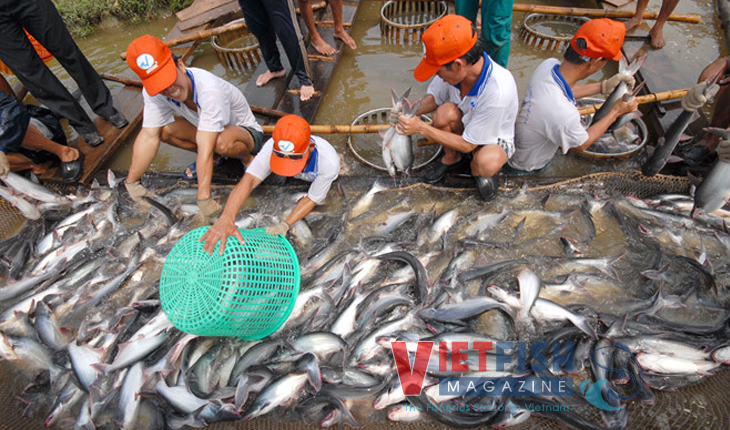 According to statistics by Directorate of Fisheries (Ministry of Agriculture and Rural Development), the pangasius farming area of the Mekong Delta reached 3,788 ha by April 2020, accounting for 96.65% of the same period last year. The harvested area reached 886 ha, equal to 82.88 of the same period last year. As many as 248 thousand tons of pangasius was achieved, down 17% from last year.
The pangasius exports were badly impacted by the coronavirus pandemic in the first quarter of 2020, resulting in difficulties in domestic pangasius production. Prices of pangasius in the Mekong Delta decreased continuously and farmers faced challenges in selling. Worse, Bến Tre, Trà Vinh and Tiền Giang farmers are coping with salt intrusion which has caused trong impact on pangasius. This year, summer heat hit early, prolonged and remained hard.
Prices of pangasius material are decreasing and the number of oversized pangasius is rising. To remain production, pangasius farmers in many prefectures have shifted from intensive practice to extensive models with low density to reduce production cost and lower rapid growth of the fish while waiting for the market signal.
The Mekong Delta saw a downward trend in prices of pangasius in the first quarter of 2020, from 20,000-21,000 dong/kg in January and early February to 18,000-18,500 dong/kg later. By mid February, it decreased by 42.6% from the same period last year, and ranged at 19,500 dong/kg. The coronavirus pandemic interrupted Vietnam's pangasius exports to China, which is the biggest destination of Vietnamese pangasius, resulting in an immediate impact on the domestic production of pangasius material.
This price stayed the same during Mar 2020. The selling price is 18,000-19,000 dong/kg while production cost of each kilogram of commercial pangasius is 21,000-22,000 dong, causing great loss suffered by farmers. Some ponds are emptied after harvesting. Currently, commercial pangasius type 1 is sold at 18,000-18,500 dong/kg. This price has remained in the last two months and may stay the same in May and June.
Prices of baby pangasius ranges at 26,000-27,000 dong/kg (size 1.5cm) and 24-24,500 dong/kg (size 1.7cm-2.5cm).
After the price of exported pangasius fell to 2.15-2.25 USD on average in Oct – Dec 2019 from 2.75 USD in Mar 2019, the price of frozen fillet exported pangasius increased to 2.25-2.35 USD/kg in Jan 2020. However, it dropped to below 2.2 USD/kg in Feb and Mar 2020.
Until now, demand in imported pangasius of China and Hongkong, which are the largest buyers of Vietnamese pangasius and account for 22.5% of the total Vietnam's exported pangasius volume, is growing back. However, other markets are under the impact of the coronavirus pandemic. Thus, total sales in major markets can not achieve a positive growth until quarter 2 at the earliest as compared to the same period last year.
VFM