Markets
The village of dried products in the West prepare for Tet Holiday: Price rises due to material scarcity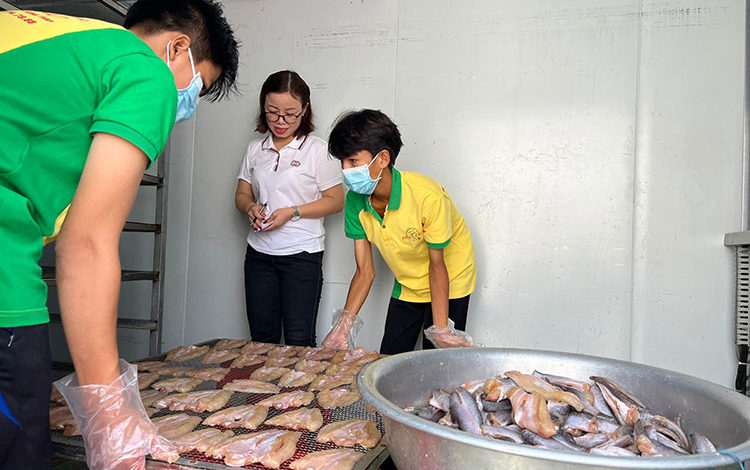 Tet Holiday will be in one month, and villages in Bạc Liêu and Cà Mau are rushing to process dried products.
Gành Hào town in Đông Hải district of Bạc Liêu province is extremely busy with process dried products these days.
Besides dried fish, local people make dried shrimp and cuttlefish. The sunny weather provides a good opportunity for the famous dried fish processing sector here.
Trần Xuân Mai, owner of a store selling dried seafood in Gành Hào town of Đông Hải district, said that due to the rise in fuel price, the seafood exploitation faced lots of difficulties, resulting in a slump in output, material scarcity, and skyrocketing prices as compared to previous years.
Nguyễn Trọng Hán, Vice Chairman of People's Committee of Đông Hải district said that there were over 30 dried seafood processing facilities here, mainly located in Gành Hào town, providing the market with over 700 tons of dried seafood of all kinds.
In Hán's opinion, so as to enhance the value of dried seafood in Gành Hào, Đông Hải district has been cooperating with authorities to improve the quality control, promotion, especially OCOP trademark building. As many as over 18 OCOP products have been recognized, with 10 products of three-star ratings such as dried shrimps, shrimp pasta, grilled chopped fish, dried cuttlefish, dried mackerel, and dried goby.
In villages related to dried seafood processing in Ngọc Hiển, Năm Căn, Trần Văn Thời, and Đầm Dơi districts in Cà Mau province, households are rushing to prepare for products in the run up to Tet Holiday, providing jobs to local people.
It is said that the production of dried fish and prawn crackers is all year; however, the peak season is at the end of the year, at the same time with seafood exploitation, resulting in an abundant supply to processing facilities. 
Dried goby, dried bumalo, dried gray eel-catfish, dried shrimp, and prawn crackers are the most consumed products during Tet Holiday.
According to Huỳnh Thanh Đảm, Chairman of People's Committee of Rạch Gốc town of Ngọc Hiển district, Cà Mau province, local processing facilities of dried fish, fish sauce, and dried shrimps are in the main crop. They provide tens of tons of products every year, with a large amount of dried seafood.
VFM