Markets
Vietnam expects to reach USD 1.7 billion worth of exporting pangasius in 2022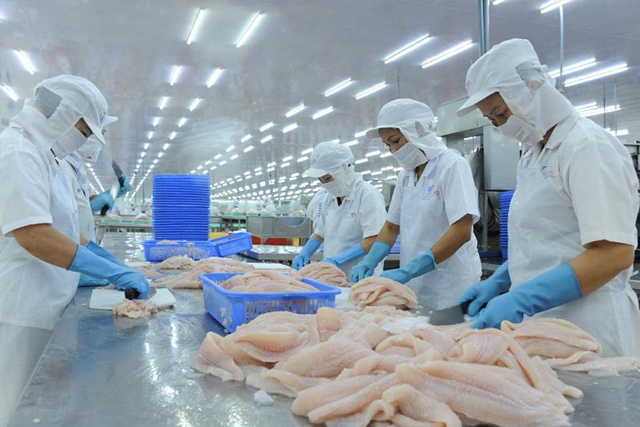 The challenges of 2021 can be continued in 2022. The sector of pangasius culture and processing will have to face difficulties.
After months of closure due to the Covid-19 pandemic, the economy starts to open with a status of living with Covid-19. Despite stimulus bills, high inflation, pressure on unstoppable increases in raw material and aquatic feed have pushed up the production cost. Moreover, the lack of workers and increases in electricity bills and labor cost is holding back the demand in export markets. The overwhelming pandemic will be an obstacle for enterprises to maintain positive growth in 2022.  
China
As forecasted, the Chinese market may remain as the largest importer of Vietnamese pangasius in 2022. However, the market trend will continue to suffer from impacts from 2021 such as the Zero Covid policy which has forced localities to tighten their control on imported products, through both direct and indirect border gates. Thus, the indirect border gates have kept closing and opening while pangasius exported through direct border gates have faced delay of feeder freights entering China via Hongkong. Available containers for directly imported products depend on relationships with vessel agents, agencies and freight charges with increases in various surcharges. Importers have faced difficulties with new importing regulations which add further charges and require products to be brought to cold storehouses for Covid test before customs clearance, resulting in prolonged duration. It is estimated that the cost for one cargo of imported products is twice as much as from the same period last year.
The fourth surge of Covid-19 in Vietnam has made China impose more regulations in controlling Vietnamese pangasius products and this will leave a serious impact on the market trend in 2022.
The EU and the UK
It will be difficult to see impressive growth in the market next year as there is no sign to show that the pandemic will be under control sustainably. Moreover, the market can not handle the skyrocketing prices of pangasius upon the tenfold increases in freight charges. The prejudice about pangasius as a cheap fish has prevented consumers from taking out their wallets to pay for this increasingly high-priced item. Even the UK, the market displaying a strong growth in 2020, is suffering from a 23% decrease in 2021 and needs time to review the market demand.
The US
2021 is considered a successful year of Vietnamese pangasius sales in the US with a steady growth in the whole year in both quantity and prices. In November 2021, Vietnam's pangasius export volume reached USD 324 million in this market, up 48% from the same period last year.
Meanwhile, Vietnam is seeing a decrease in supply chain when factories are forced to close or decline the capacity upon the "three-four at site" scheme. However, this situation will be handled in 2022 when operations in factories go back to normal. 
Other markets
Mexico, Brazil, Colombia, Russia and Egypt are expected to grow back in 2022 and somehow sales in these markets can compensate for the slump in China and the EU.
Material in 2022
Feed prices have remained high, resulting in considerable increase in production cost of pangasius. Moreover, high prices in fries and low survival rate due to the weather have put high pressure on pangasius farmers. Poor stocking due to the social distancing regulation in quarter 3 of 2021 caused a serious impact on material supply in 2022. The output of farmed fish will be equal to 2021. While farmers are facing an increase in production cost, the export prices of pangasius are suffering a great number of market factors, freight charges and Covid-19 prevention regulations. In 2022, Vietnam's pangasius companies are expected to bring in USD 1.7 worth of pangasius exports, up 13% from 2021.
VFM