News
Alltech opens Vietnam's first organic mineral production facility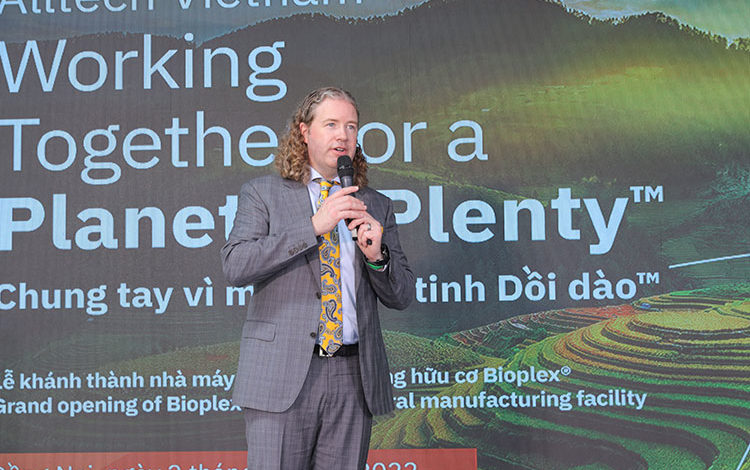 Dr. Mark Lyons, president and CEO of Alltech, at the opening of the new Bioplex® plant today, the first organic mineral production facility in Vietnam.
Alltech, a global leader in the agriculture industry, opened its newest Bioplex® plant on November 2, the first organic mineral production facility in Vietnam. The state-of-the-art manufacturing plant is Alltech's eighth mineral production facility worldwide. 
The plant's production capacity is 7,000 metric tons per year, and it has the potential to create 100 new jobs, while being conveniently located to serve local customers and support import/export activity.
Alltech is one of the world's largest producers of organic minerals for animal nutrition. The company has committed significant resources into organic trace mineral production, quality control and research, as trace mineral nutrition is essential to animal health.
Alltech's Bioplex® range of minerals are supported by more than 21 years of research and offer higher bioavailability to animals than inorganic minerals. The minerals are readily absorbed, stored and utilized by the animal, supporting overall health, immune status and reproductive function. Furthermore, because Alltech's organic minerals are better utilized by animals, producers are able to achieve more with less. Mineral excretion from animals through manure is also reduced, resulting in less environmental impact. 
"Our organic mineral program reflects our focus on sustainability in all aspects, from the health of the animal and the nutrition of the meat, milk and eggs produced to the economic well-being of the producer and the impact we have on our planet's land and water," said Dr. Mark Lyons, president and CEO of Alltech. "Our investment in enhancing our mineral production in Asia reflects our confidence in the market's continued growth and our alignment with our customers' commitment to better nutrition from farm to market."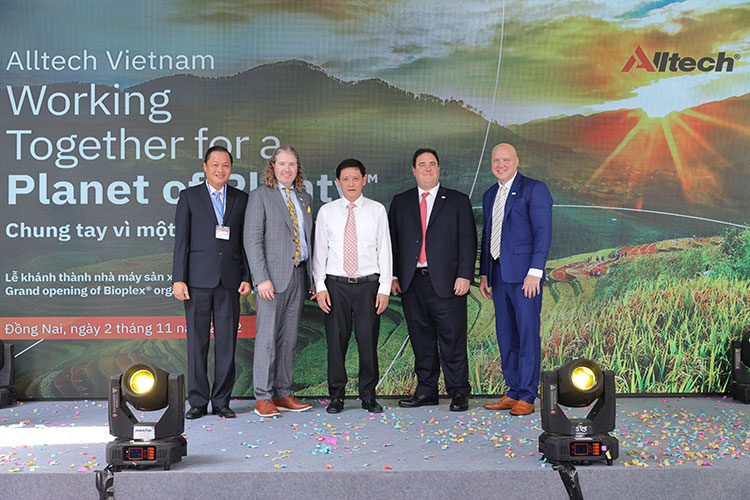 Alltech opens Vietnam's first organic mineral production facility. Left to right: Mr. Lai Xuan Sam, Deputy Director, Sonadezi; Dr. Mark Lyons, President and CEO, Alltech; Mr. Duong Tat Thang, General Director of the Livestock Production Department, Ministry of Agriculture and Rural Development; Mr. Jonathan Wilson, President, Alltech Asia Pacific; and Mr. Keith Gribbins, Director of Operations, Alltech Asia Pacific.
Feed production in Vietnam increased nearly 7% in 2021, according to the Alltech Agri-Food Outlook, the company's annual global feed production survey. Vietnam's total feed production in 2021 was 18.5 million metric tons, led by the swine sector with 7.84 million metric tons, an increase of nearly 20% over 2020. Aqua feed production increased 40% in 2021 to 6 million metric tons, broiler feed increased 9% to 2.12 million metric tons, layers feed production increased 11.7% to 2 million metric tons and dairy increased 22% to 520,000 metric tons. 
Consistent with Alltech's purpose of Working Together for a Planet of Plenty™, the production facility in Vietnam was engineered to reduce the environmental impact of production:
The use of CNG versus fuel oil, a common fuel source in Vietnam, is expected to reduce the mineral plant's nitrogen dioxide emissions by 80% and carbon monoxide emissions by 87.5%.

The facility uses high-pressure clean-in-place (CIP) pumps for tank cleaning, reducing wastewater by 50%. Its dust collection system is 99% efficient. 

The use of invertor motors saves electricity consumption by 5% by utilizing variable frequency drive (VFD), which also allows for the control of speed and torque to reduce chances of mechanical failures. 

The production system uses fluid bed drying (FBD) technology, which requires 48% less thermal consumption than conventional spray dryers. 

The facility is certified by ISO 22000:2018, which sets out the requirements for a food safety management system.

Organic trace minerals are more bioavailable to the animal, contributing to improved animal health. Because more of the minerals are taken up by the animal, mineral excretion through manure is reduced, minimizing environmental impact on land and water. 
The new facility also utilizes the Alltech Q+ (Quality Plus) Program, a mineral quality control program unique to Bioplex trace minerals that guarantees quality, safety and performance in every batch. Alltech Q+ sets the industry standard, enabling Alltech to offer a global quality guarantee to customers using Bioplex trace minerals around the world. It forms an integral part of the Alltech Quality System (AQS), which was designed to meet or exceed all global market regulatory standards and ensures that proper approvals and analyses are performed for suppliers, raw materials and finished goods.
For more information about Bioplex and the Alltech Mineral Management program, visit alltech.com/mineral-management. 
Tien Le
Contact: press@alltech.com 

Jenn Norrie

Alltech Communications Manager, North America and Europe

jnorrie@alltech.com;' 1-403-863-8547

Tien Le

Alltech Editorial Content Manager, Alltech Vietnam

tile@alltech.com; +84 913 051 292
About Alltech:
Founded in 1980 by Irish entrepreneur and scientist Dr. Pearse Lyons, Alltech delivers smarter, more sustainable solutions for agriculture. Our diverse portfolio of products and services improves the health and performance of plants and animals, resulting in better nutrition for all and a decreased environmental impact.
We are a global leader in the agriculture industry. Our team produces specialty ingredients, premix supplements, feed and biologicals, backed by science and an unparalleled platform of services.
Strengthened by more than 40 years of scientific research, we carry forward a legacy of innovation and a unique culture that views challenges through an entrepreneurial lens. As a private, family-owned company, we adapt quickly to our customers' needs and focus on advanced innovation. 
We believe agriculture has the greatest potential to shape the future of our planet. Our more than 5,000 talented team members worldwide share our purpose of Working Together for a Planet of Plenty™. Together, we can provide nutrition for all, revitalize local economies and replenish the planet's natural resources. 
Headquartered just outside of Lexington, Kentucky, USA, Alltech serves customers in more than 120 countries, has five bioscience centers, and operates more than 80 manufacturing facilities across the globe.
For more information, visit alltech.com, or join the conversation on Facebook, Twitter and LinkedIn.