News
Approve the project of developing the salt industry within 2021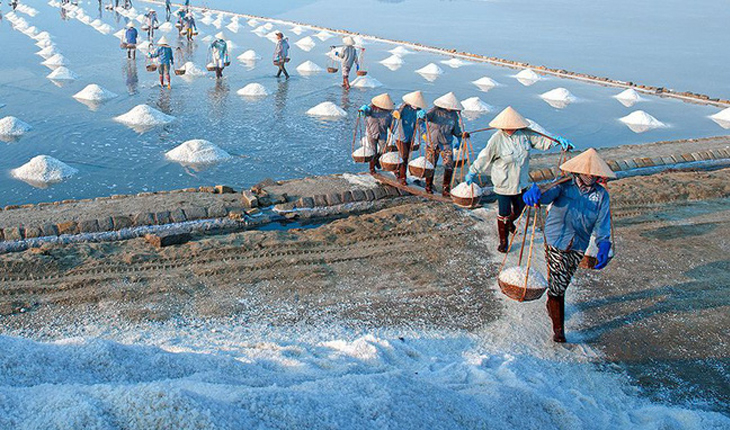 Deputy Prime Minister Trịnh Đình Dũng has just signed the decision number 1325/QD-TTg Read to find a project of Developing the salt industry in Vietnam within 2021 – 2030 with an aim to exporting salt, creating more jobs, raising incomes, and stabilizing likelihood of salt farmers.
The project aims to remain 14,500ha of salt area as of 2025, reaching 1,500 thousand tons per year, with the total area of industrial salt production reaching 4,805ha and output of 640,000 tons (43%); invest into infrastructure, machine and system of producing and processing salt; Applied technology and science in production to increase productivity by at least 20%. Develop to produce salts to meet domestic demand and focus on synchronous production of healthy salts rich in minerals, natural nutrition with a very few amount of NaCl.
The project states that the total salt area will reach 14,244ha up to 2030, with an output of 2,000,000 tons per year and the total area of industrial salt production will reach 4,887ha, with an output of 870,000 tons, meeting domestic demand.
One of the tasks that the project gives is to invest into production of salt in association with processing and marketing. Salt production will be carried out together with processing and marketing, according to the public investment plan for the medium term framework within 2021-2025 and the incoming period.
As for infrastructure of salt production, the Decision states that investment in infrastructure of salt production in accordance with industrial scale will meet demand of the chemical industry and material for processing high quality fine salt in Khánh Hòa, Ninh Thuận, and Bình Thuận.
Another task of the project is to enhance the research and appliance of science and technology in producing and processing salt so as to improve the output quality and diversify salt products.
The project requires a study and evaluation of the potential exports of salt rich in minerals and poor in Nacl, trade promotion and trademark development of exported salt in Nam Định, Thái Bình, Nghệ An, and Hà Tĩnh.
VFM