News
Bring Vietnamese fishing boats to the foreign ocean for legal exploitation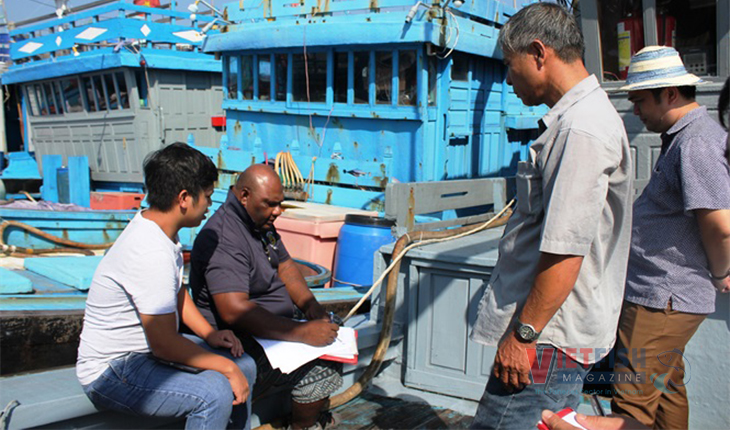 On 14 November, a representative of Solomon Registry Department came to Quảng Ngãi to check some fishing boats before permitting them to enter the country's ocean for marine exploitation.
This is one of the most significant milestones of Vietnam's fishery industry when local fishing boats are permitted to exploit in the maritime zone of a foreign country.Quảng Ngãi is one of three provinces that will make the trial.
The company behind this movement is the Hồ Chí Minh-based Hoàng Kim Việt Group whose General Director Võ Minh Hùng said that Vietnam would have nine boats checked by the Solomon Registry Department with six owned by Quảng Ngãi and three owned by the southern provinces.
Vietnam's fishing boats have operated illegal in the foreign maritime zone and some of them including Quảng Ngãi's boats were captured for this behavior. Thus, to uphold the legality of Vietnam's exploitation in the foreign maritime zone is either paving the new way for the country's fishery industry or bringing benefits to local companies and fishermen while Vietnam's marine resources is exhausted.
Mr Hùng said that most of theselected boats come from Quảng Ngãi because the province has many big boats and experienced fishermen. The selected boats will set forth on their trip to the countries in the South Pacific, firstly Solomon and Vanautu for cucumber exploitation. "We are granted for business registration licenses by the Solomon and Vanautu government and we have set up our subsidiaries to work in marine exploitation and seafood process there.
"After the boats are checked and verified by the Solomon Registry Department, we will proceed the visa granting for the fishermen. We are planning to establish three more companies in three countries of the South Pacific for marine exploitation", said Hùng.
Fishermen Võ Văn Lựu (from Bình Sơn district of Quảng Ngãi province), owner of the boat no.QNg 90627TS, capacity 700CV, said that his boat started diving early 2017 with total investment of 3.1 billion dong. His boat is selected to go to Solomon this time. In the morning on 14 November, representative of the Solomon Registry Department GEO TU TU BAHUA came to check the boats and said: "Vietnam's boats satisfy 90% of our requirement, just some more Vietnamese paperwork is needed to adjust".
General Director of Hoàng Kim Việt Võ Minh Hùng added that after the Solomon Registry Department's checking, the Group and the Department will have a meeting where the Department will announce the qualified boats. Then they both will work together to finish the paperwork and visa for the fishermen as regulated. "The paperwork will be finished at the end of this year. After that, Solomon will set the time when Vietnamese boats can come; otherwise the extension must be applied", said Hùng.
VFM