News
Trà Vinh: Sustainable shrimp farming from farm to table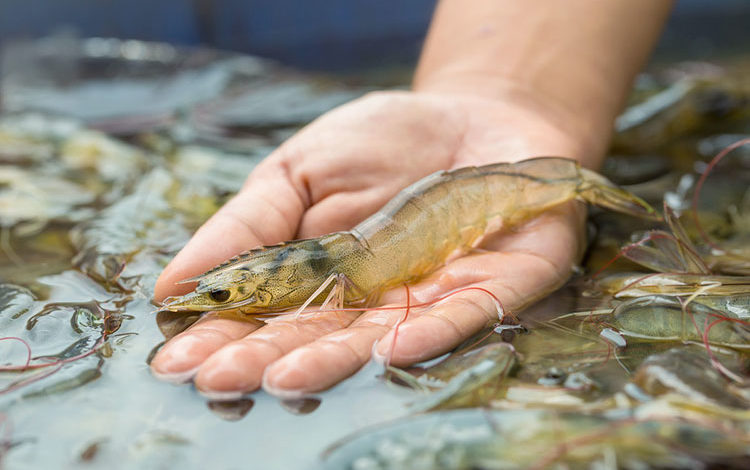 Rearing shrimp by smartphone and automatic feeder and harvest them day by day are new technology applied by Doctor Nguyễn Thanh Mỹ in Trà Vinh.
Digitalization
In November 2020, Doctor Nguyễn Thanh Mỹ (Chairman of the Board of Directors of RYNAN Technologies Vietnam JCS) established Salicornia Ngon Bien JSC. In the shrimp farming area of 7.5ha, the Company invested into a new technology based pond system in Duyên Hải district of Trà Vinh province. Doctor Mỹ was confident that the innovation of new equipment, so called digitalization, would bring breakthroughs to shrimp culture.
In his judgment, when studying Vietnam's shrimp sector in early 2020, he realized four big problems: firstly it was low productivity as each hectare produced 1-2 tons of shrimp per year. Secondly, households used a large amount of antibiotics, leading to antibiotic resistant super-bacteria. Thirdly, over 75% of the value chain of Vietnam's shrimp sector depended on traders. Finally, high production was a challenge because most of the feed production companies are owned by foreigners. Meanwhile, shrimp feed accounted for 55-60% of production cost.
In Mỹ's opinion, automatic collection of data is the most difficult problem in shrimp culture. Artificial intelligence is unaffordable to farmers. Thus, Mỹ's solution was three levels: manual, semi-automatic, and automatic. For example, in the farming area of Salicornia Ngon Bien, a shrimp taken by a smartphone can clearly show its weight, growth, and disease infection.
Smartphone and automatic feeder
The model applied by Salicornia Ngon Bien has been totally agreed by shrimp farmers as it helps reduce production cost related to broodstocks, materials, and feed. This model also ensures traceability as shrimps are reared in a safe process, satisfying standards to enter the most demanding markets such as Japan and Europe.
Salicornia Ngon Bien has applied Rynan Mekong in App Store installed in smartphones so as to facilitate remote control, update shrimp status, and survey water environment through smartphone screen, enabling easy shrimp culture and saving money.
With this model, the smart feeder AIF 100 (30 million dong) is used, including three operation modes (manual, semi-auto, and combined artificial intelligence). The artificial intelligence mode will combine with survey stations, environment measuring devices, shrimp and fish measuring devices so as to determine the amount of feed per day. The machine helps save as much as 20% of the feed volume.
Salicornia Ngon Bien's shrimp farming model is carried out in Trà Vinh, Bến Tre, Sóc Trăng, and Bạc Liêu on the basis of cooperation among cooperatives. The technology and farming devices are produced by Salicornia Ngon Bien (available in Trà Vinh). As they are domestically produced, they are affordable and applied by every single shrimp farming cooperative. The Company can cooperate, lease or sell shrimp farmers the devices for deferred payment which is assured by a bank. 
Daily harvest 
Shrimp farm owned by Salicornia Ngon Bien is an entirely closed system with a solar roof. Shrimps can be harvested day by day but 100 days after stocking and sold directly to consumers.
In Mỹ's opinion, the market for shrimp consuming is big but not paid attention. Manufacturing products from shrimp material is a way for farmers to increase the value. "Instead of selling rice, we sell cooked rice. Instead of selling live shrimps, we sell food processed from shrimp", said Mỹ.
VFM