News
Cà Mau Province focused on One Commune – One Product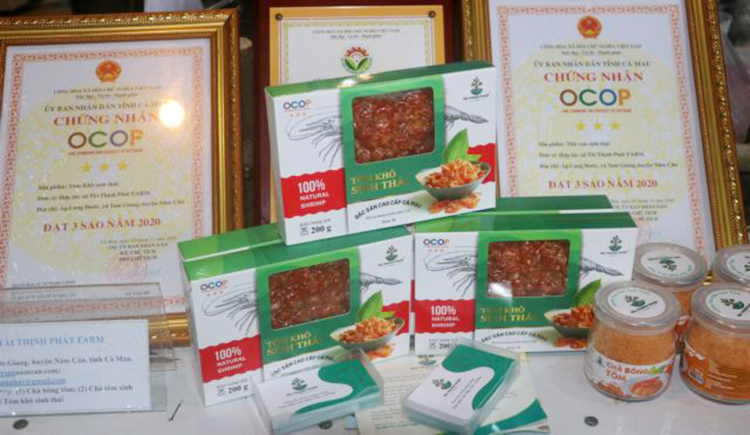 The national 'One Commune – One Product' (OCOP) programme has helped improve the value of Cà Mau Province's agricultural products and promote its speciality products.
The southernmost province enjoys advantages in agriculture, forestry and aquaculture, which enable it to offer various products and services designated as OCOP.
They include food, beverages, handicrafts, and rural tourism services.
The province recognised 44 more OCOP products last year, taking its total to 77 ranking from three or four star level under a five-star system.
The ones recognised last year include Ngọc Trân and Mạch Long fish sauce, Từ Tâm biological rice, Minh Duy fermented bulrush, Minh Quân dried soft banana, Ba Đức dried gourami fish, Năm Căn shrimp cracker, and Ngọc Hiển mangrove chopsticks.
The province ranks fourth out of the delta's 12 provinces and Cần Thơ City in terms of OCOP numbers.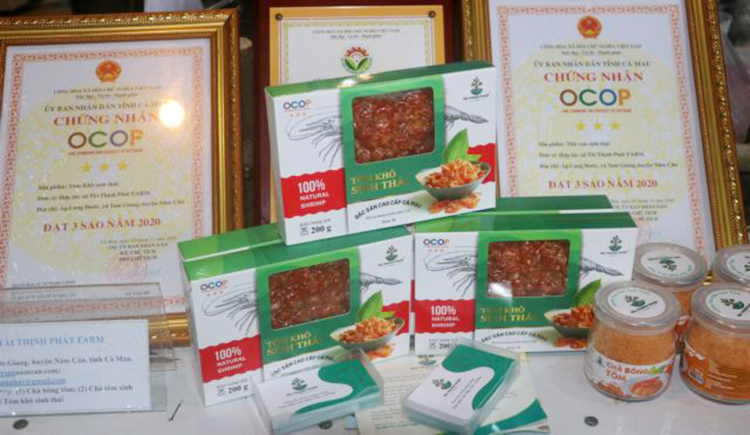 OCOP products made by the Tài Thịnh Phát FARM Co-operative in Cà Mau Province come with good packaging and labelling. — VNA/VNS Photo Huỳnh Anh
The Cái Bát Processing, Trade, Service and Aquaculture Co-operative in Cái Nước District had its tilapia paste recognised as a three-star OCOP product in 2020.
Nguyễn Hoàng Ân, its chairman, said the paste used to be bought mostly by regular consumers and the quantity was not large, but after the recognition and trade promotion, it became known nation-wide and sales had increased significantly.
Lê Văn Sử, deputy chairman of the province People's Committee, said the OCOP programme had done well in the two years since it began, with many producers actively participating in it and developing new products.
Many had also reorganised production to expand scale, develop value chains, ensure food safety, improve quality, packaging and labelling, and having origin traceability, he said.
But most products were simple or semi-processed meaning their value was not high, he said.
The province did not have a five-star OCOP product.
It had potential in eco-tourism but lacked an OCOP tourism product.
Nguyễn Văn Quân, deputy director of the province Department of Agriculture and Rural Development, said localities were focusing mostly on developing existing products rather than new ones.
They had not combined the development of OCOP and handicraft villages, he said.
"Localities have not paid sufficient attention to … supporting OCOP producers to [help them] increase the star-level of their products."
Trade promotion
Cà Mau is taking various measures to promote trade and linkages between OCOP production and consumption stakeholders.
Dương Vũ Nam, deputy director of its Department of Industry and Trade, said the province had promoted OCOP products both through traditional and e-commerce platforms.
His department had taught OCOP producers the skills needed to sell on e-commerce platforms, he said.
This year it had organised various events like meetings between companies and producers to create linkages, showcasing OCOP products, and providing training to promote OCOP products.
With support from local authorities in terms of trade promotion, OCOP products are sold on the province's e-commerce platform, madeincamau.com, and other large ones like Tiki, Lazada, Shopee, and Amazon, according to Nam.
They are also sold in supermarkets in major cities like Hà Nội, Đà Nẵng, and HCM City.
Some have even been exported to countries like Australia, Canada, Singapore, and China.
The province plans to develop at least 40 new OCOP products this year, including 30 with three to four stars.
Sử said to achieve the targets the province would help OCOP producers get soft loans, apply technology and use digital technologies to enhance their capacity and develop their products.
They should improve quality, ensure food safety and advertise their products and promote them in more markets, he added.
Source: Viet Nam News