News
Cà Mau: Shrimp industry still faces numerous challenges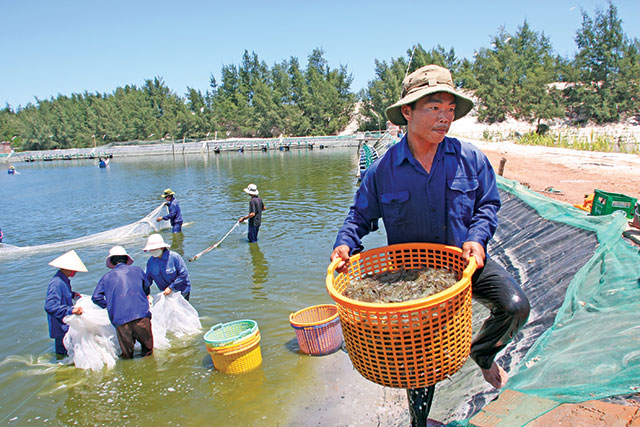 Cà Mau's shrimp sector plays a vital role in provincial economic development. But its shrimp farmers are only scratching the surface of what's possible.
Cà Mau shrimp has been awarded lots of global certificates such as ASC, B.A.P, GlobalGAP, EU, Naturland, and Seafood Watch. The province has over 30 enterprises with 38 processing factories equipped with updated technologies as compared to the region and the world. The annual capacity is recorded as 250,000 tons of shrimp materials.
Cà Mau shrimp has entered into 90 nations and territories, with four major markets being the US, Japan, the EU and China. The province's shrimp farming area accounts for 45% of the Mekong Delta and 40% of the whole country, resulting in the output accounting for 29% of the region and 22% of the country, and the export volume reaching nearly USD one billion (accounting for 30% of Vietnam's shrimp export value).
However, the provincial shrimp sector is facing real challenges.
Depend on nature
During the last time, Cà Mau has been applying high technologies in white leg shrimp culture in accordance with CPF-Combine, Biofloc, Semi-Biofloc, two-phase culture, three-phase culture, and entirely closed water rotation methods, leaving an increase in productivity and effectiveness. However, the shrimp sector still faces real challenges driven by climate change, summer heat, salt intrusion, environmental disadvantages, and frequent disease outbreaks.
Farmer Lê Văn Mưa in Thới Bình district shared: "Shrimp farmers depend on weather conditions. Disease outbreaks occur irregardless of their application of high technologies with an aim to increase productivity and reduce risks. Moreover, shrimp farmers are provided with very little information, especially information of market prices, making them confused in selecting species to rear, suitable sizes and proper harvest time".
Farmer Nguyễn Minh Luân in Phú Tân district shared: "Shrimp farmers have not taken the initiative in water resources, meanwhile lots of enterprises keep discharging into the environment, leading to frequent disease outbreaks. Thus, the Government should formulate a policy for better planning and management so as to help shrimp farmers develop their business sustainably". 
Nguyễn Văn Chung, Deputy Head of the Cà Mau provincial Sub-department of Fisheries gave his opinion: "The planning of seafood culture, shrimp farming included, has not been approved as it has to wait for a general planning to be developed for composition, resulting in difficulties in management. Moreover, poor management has led to the fact that many households took part in intensive and super-intensive culture beyond planning, resulting in environmental pollution.
Weak links in the supply chain
Nguyễn Văn Toàn, Chairman of the Management Board of Ông Một Seafood Services Cooperative in Lý Văn Lâm commune of Cà Mau city said: "We are paying special attention to boost the value chain between enterprises and households as members of the cooperative. However, I have to admit that the association is so loose that it fails to connect the mutual benefits and responsibilities. Besides, the buyers and sellers are not legally binding in exclusive sales contracts, thus they are easily breakable".
With more than 280,000 ha of brackish water shrimp farms, the province produced around 200,000 tons of shrimps in 2020. The effective farming methods are super-intensive, two-phase improved extensive, and shrimp-rice which have helped increase the output and value of the shrimp sector. However, local shrimps farmers are still small ones.
Trình Trung Phi, Technical Director of Viet Uc Seafood Cooperation gave his comment: "There has not been a regional planning which is suitable for the sustainable development of the shrimp sector while farmers have not been aware of the long-term profit conception, hence, produced upon their feeling without considering the market direction".
The Cà Mau's shrimp sector has not taken the initiative in broodstocks and feed which constantly fluctuates and is difficult to be controlled. The imbalance between need and demand and the insufficient output have led to an increase in prices of raw materials. On the other hand, scarcity in the market has created competitiveness, and lots of feed producers are giving their distributors a deep discount rate, resulting in feed prices being pushed up high. 
Trình Trung Phi said: "In 2020, feed for shrimp increased from 1.69% to 5.03%, making farmers suffer from pressure. Most of the feed has been provided by FDI and most of raw materials are under the thumb of this global company. 
VFM