News
Environmental pollution of offshore fish farms in urgent need of handling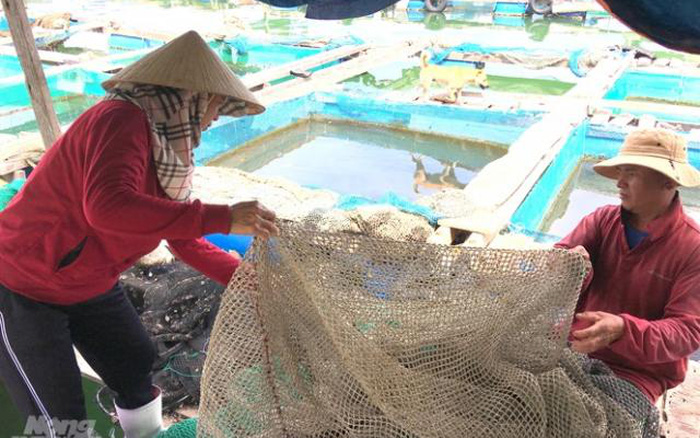 Many fish farmers in Binh Dinh Province have been concerned about the issue of the environment in their offshore fish farms to prevent diseases and avoid financial losses.
Local farmers' awareness of environmental protection in offshore fish farms has been improved. Photo: Vu Dinh Thung.
Rapid development
According to Tran Van Phuc, Director of Binh Dinh Department of Agriculture and Rural Development, the local offshore fish farms are frequently affected by storms due to natural characteristics; therefore, the profession of raising seafood in cages or rafts could not be developed in the province.
Currently, there are about 310 households raising fish in cages and rafts offshore in Binh Dinh, concentrated in Nhon Hai, Nhon Chau, Ghenh Rang and Hai Cang wards (Quy Nhon city).
The total number of aquaculture rafts in the province is 273 with over 3,500 cages for raising snapper, sea bass and lobster.
Besides, fishermen in Nhon Chau commune, Nhon Hai commune and Ghenh Rang ward also have the profession of rearing lobster seed. The above-mentioned localities currently have 84 households rearing lobsters in 39 rafts of about 1,232 cages, and the number of rearing breeds is about 181,300.
Commercial lobster farming is concentrated in Nhon Hai commune, Ghenh Rang ward and Nhon Chau commune, including 120 farming households with 42 rafts of about 1,079 cages; the number of breeding stock is about 89,200 and the average output is about 24 tons. Meanwhile, snail farming is concentrated mainly in De Gi lagoon (Phu Cat district) on a total area of about 1 ha and the output is estimated at 15 tons.
To develop aquaculture in the direction of efficient use of marine resources, the People's Committee of Binh Dinh province approved the master plan on development of the fisheries sector with a vision to 2030 in mid-2015.
Accordingly, by 2030, the total area of offshore farms in this province reaches 23,000m3, the yield is 6.5 kg/m3 and the output is 150 tons.
However, with the efficiency from offshore farming, the total area of mariculture in Binh Dinh province has reached nearly 61,000m3 and the aquaculture production has far exceeded the plan by 2030.
Krill farming will be mainly concentrated in De Gi and Thi Nai lagoons with 2 species of oysters and snails. According to the plan with a vision to 2030, the total area of mollusk farming in Binh Dinh is 105ha, the yield is 11 tons/ha, the output is 1,190 tons and the seed demand is about 71.5 million.
Improved awareness
"The source of lobster seed harvested naturally every year in each season is pretty large, which is a favorable condition for the development of lobster hatchery and commercial lobster farming in the locality, in addition to raising income for fish farmers. Marine farming in Binh Dinh has also created a source of fresh seafood to serve local needs and tourism that is thriving in the province," said Tran Van Phuc, Director of the Department of Agriculture and Rural Development.
Previously, all kinds of waste in the process of raising the seafood offshore in cages and rafts such as packaging for aquatic food, bottles containing aquatic veterinary drugs, and domestic waste, were discharged directly into the water by cage owners.
Long-term accumulation of waste will pollute the farming area, leading to the development of diseases on aquatic products. Therefore, the control of waste, especially plastic waste in marine aquaculture, has been a great concern of farmers.
For example, in the offshore farm in Hai Minh area of Hai Cang ward (Quy Nhon city) where there are hundreds of rafts with thousands of cages located close together, the collection of waste on the cages to limit pollution within the farming area has been paid much attention to.
Nhon Hai commune (Quy Nhon city) has 26 farming households managing 12 rafts raising 57,500 commercial lobsters. According to the farmers here, each cage of shrimp weighing from 0.7-0.8 kg/head consumes more than 5kg of fresh food per day.
In addition, the use of plastic packaging to store aquatic food is minimized and the local fish farmers have switched to using plastic buckets and cans instead to store food to feed the fish.
Every day, when farmers go to the raft to feed the fish, they collect all kinds of waste such as styrofoam boxes, plastic bags, trees, clothes, shoes, etc. that have been brought along with the waves to clean the cultured water area. Garbage is collected and brought to Quy Nhon fishing port and dumped in the bins.
Therefore, if the amount of plastic bags containing food for fish, plus the daily domestic waste on the raft are not collected and discharged properly, the environment of local offshore farms will be severely affected.
"Lobster farming demands high investment so farmers will suffer from huge losses if the farming area is polluted and diseases break out among the lobster," said Do Cao Thang, Chairman of Nhon Hai Commune People's Committee.
"Therefore, on feeding lobster, the farmers need to dive into the sea to check each cage to collect all kinds of waste and dump them in the trash. Leftover food in the cage needs to be collected and taken away from the rearing area. On cleaning the cages, farmers have to take the trash to shore for treatment at the area prescribed by the commune and pay a cleaning fee to the commune."