News
Inadequate regulations put seafood enterprises in difficulties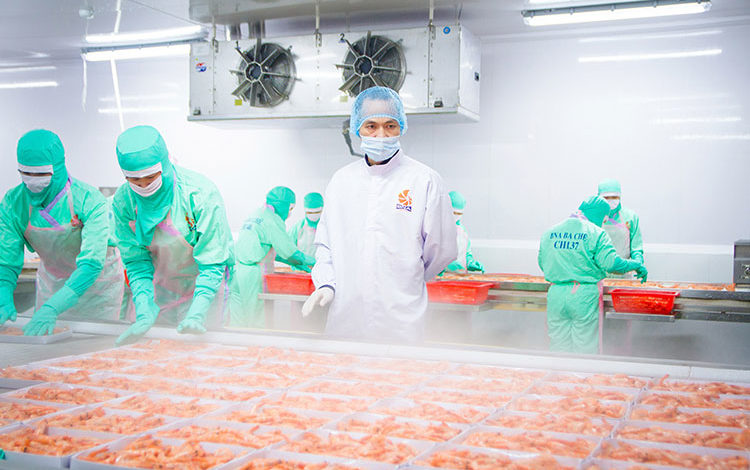 Seafood exports have been recovering with an impressive double-digit growth in most markets. However, a sharp increase in production costs and inadequate regulations are making enterprises dip into their pockets, even up to hundreds of billion dong.
Overwhelming costs
Chairman of the Board of Directors of Thuận Phước Seafood and Trading Corporation Trần Văn Lĩnh said that the Corporation had been receiving lots of orders since earlier this year, but they couldn't stop worrying about late delivery or missed transportation. He said that ocean freight charges have been higher than the peak season of the previous year. Freight charges for the Asian routes, such as Thailand, have reached 1.600-2.500 USD/container and prices for going to Western ports (the US) have reached 12.000-14.000 USD/container. Charges of containers going to Eastern ports have raised up to 19.000-22.000 USD each. Meanwhile, freight charges to China have been twice or even three times as  much as they were last year. This is attributed to the extremely strict control of the Covid-19 pandemic applied by the Chinese authorities, which resulted in the congestion at ports and made a large number of containers get stuck there.
Chairman of the Board of Director of Sao Ta Foods JSC Company said that not only had freight charges risen, but also seafood enterprises had been facing overwhelming costs amidst the increasing prices of raw materials. Prices of broodstock shrimps imported by the company have increased by 5-7%, prices of fish fries rose by 25-30%, and feed prices have increased by 5%. Moreover, prices of chemical substances used in shrimp farming have increased by 20-30%.
 "This has put considerable pressure on enterprises because production costs have increased significantly but partners could accept the increase by 10-15% of products. Buyers are not ready for new prices. If prices are pushed up highly, consumers may shift to other products or use products imported from other countries with lower prices.
Look forward to removal of inadequate regulations
The General Secretary of VASEP Trương Đình Hòe said that seafood exports in the first three months hit a record high with USD 2.4 billion worth, up 38.7% as compared to the same period last year. The most noticeable sales of pangasius were recorded in pangasius products with an estimated value of USD 646 million (up 88% from the same period last year).
In Hòe's opinion, the US, the EU, Japan, Korea, China, and the UK are in high demand for seafood, giving a bulk of orders to Vietnam till the end of this year. However, seafood enterprises are forced to spend hundreds of billion dong on charges because of inadequate regulations, for example, Hồ Chí Minh city is collecting the fee of port infrastructure from early April and putting frozen seafood materials imported for processing for the purpose of exportation in quarantine. "We are submitting for the Government and Hồ Chí Minh People's Committee to halt the collection of port charges till the end of this year or next year. Besides, enterprises are looking forward to the removal of quarantine regulations against imported frozen seafood by the Ministry of Agriculture and Rural Development", said Hòe.
Deputy Minister of Agriculture and Rural Development Phùng Đức Tiến said that the production and exportation of seafood had shown positive signs in quarter 1. However, unsustainable growth will be possible if production costs continue to rise. "The Ministry of Agriculture and Rural Development has been following up the market situation and prices of raw materials, especially feed. The Ministry has continued to propose policies to support enterprises in terms of capital and taxes", said Tiến.
As for the removal of administrative procedures, the Ministry has just issued a draft to amend the Circular no.26/2016 regulating the termination of putting quarantine into imported frozen processed seafood used for processing for the purpose of exports and production of exported products without consumption in the domestic market.
VFM