News
Khánh Hòa: Short supply of material for seafood processing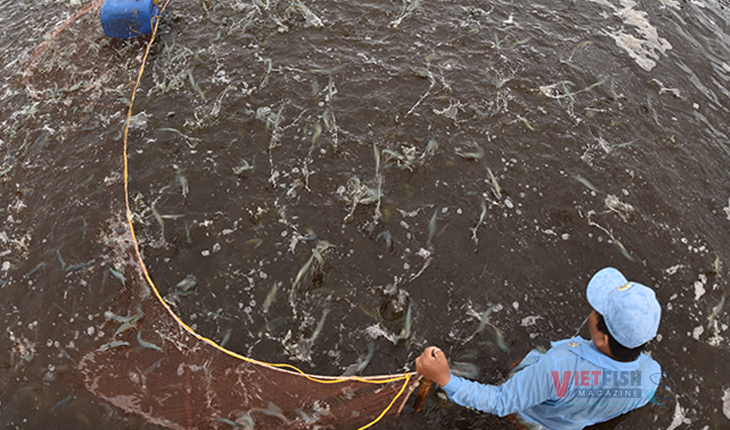 Currently, the amount of wild-caught species only meet 50% of the demand for seafood material of Khánh Hoà exporting and processing companies. Thus, they have no choice but importing materials from foreign countries or purchasing from other provinces.
Local material in short supply
Hoàng Hải Ltd., Co in Nha Trang city specializes in exporting tuna to the US and the EU with the annual export volume of around $8 million. The company's leader said that since earlier this year the company has exported around 700 tons of products to the US and the EU. However, it had to import 20% of the material from foreign countries for processing, and 80% was bought from other provinces such as Bình Định and Phú Yên, just very few materials were collected from local farmers.
According to the provincial sub-department of fisheries, the province has 44 seafood processing and exporting companies that are granted certificates of qualifications by the Ministry of Agriculture and Rural Development. Seafood products produced in the province, mainly tuna, have been exported to 64 global markets. Because the province's seafood material meets less than 50% of the local demand, all companies have to import materials from foreign countries or collect from other provinces, even some have to import 70-80% of the materials. The short supply of input materials results in an unfair competition among processing companies and traders. In some cases, companies and farmers enter sales contracts of wild-caught species; however, when other traders offer higher prices, farmers shift to sell them but companies.
Explaining the situation, Võ Khắc Én, Deputy Director of the sub-department of fisheries said that by the end of Oct 2020, the province's output of wild-caught species only will have risen by 1.06% as compared to the same period last year, reaching 88,139 tons. Meanwhile, the market is in great demand for these species, especially after EVFTA becomes effective with growing demand for materials from companies. However, not all of the wild-caught species will be put into processing because the preservation is a problem. Only 70% of them can be used for processing and exports. Besides this, the importing markets have adopted more stringent requirements. For example, when wild-caught species fail to meet the requirements of IUU fishing, companies can not buy them for processing and exporting to the EU market because they fail the traceability. That's why the material resources for processing and exports have been in short supply.
Support companies
Seafood materials have been mainly imported from countries in Southeast Asia because of lower prices than domestic provinces. Today, at the entry into force of EVFTA, besides expanding the exporting markets, the provincial seafood companies are expecting a new era. According to the representative of Hải Vương Ltd.,Co in the Suối Dầu Industry Zone, in the face of existing difficulties, many companies aim to import materials from members of the EVFTA treaty. So as to create favorable conditions for companies, competent authorities must facilitate the control of imported seafood from foreign countries for processing such as applying the rule of risk management, exemption and reduction of papers and forms. Then, companies can take use of the imported tuna resources, satisfying the rules of origin of goods in accordance with EVFTA.
In the last few months, the provincial sub-department of fisheries have carried out three chain supplies in exploitation, purchasing, and consumption between seafood processing companies and fisheries cooperatives in the province, with participation of more than 150 fishing boats. "So as to meet the demand for processing materials of local companies, the province has focused on developing a group of offshore fishing boats, improving the output and efficiency as well as disseminating local fishermen to follow the regulations of IUU fishing. Fishermen should be supported to upgrade the preservation system to preserve the wild-caught species right after exploitation so as to take good use of these species in processing for exports. Moreover, competent authorities will enable companies to import resources from foreign countries, such as create favorable conditions for them to confirm the origin of materials", said Én.
VFM