News
Kiên Giang: Fish farming in rice field during flood season, effective model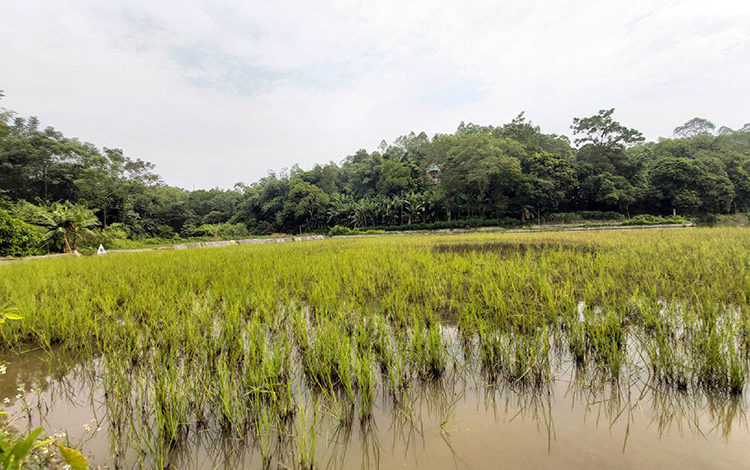 After the third rice crop, Kiên Giang farmers stock fish in the rice field. The harvest is nearly one month ahead, but farmers believe that it will be an abundant crop because the flood season comes early but the floodwater rises slowly, creating favorable conditions for the fish to grow up.
Water in the fields of Tân Hiệp district is rising high, creating favorable conditions for farmers to culture fish in rice fields. Farmer Dương Văn Đời has spent nearly 20 years on farming fish in rice fields during the flood season in Thạnh An 12 of Thạnh Đông A, Tân Hiệp district. This year, he continues to stock nearly 300kg of bighead carp and carp fries. "The field was dry at this time last year, resulting in stunted growth in the fish and a profit of just 15 million dong. This year, waterflood rises high, if everything goes well, I will earn 70-80 million dong profit", said Đời. He has spent nearly 20 million dong on net and fries since earlier this crop.
Giồng Riềng district is famous for various model of seafood culture during the flood season, bringing high income for years. These models have been carefully invested, financially supported by the Agriculture sector and technically adapted to the flood season. According to local farmers, the food season starts early this year, the flood water rises slowly, enabling the fish to grow up.
Farmers in Bàn Thạch commune of Giồng Riềng district spend 374 ha of field farming fish. When the harvest of the summer-autumn rice crop is in one month, Danh Oanh Na starts to stock fishfries on the field because this is the time when the field is free from pesticides.
Na uses nets to surround the field so as to keep the fish from being wiped away by rising water after a heavy rain. "I stock 2,000 fries of many types in a 4 ha field. It costs me nothing but 5 million dong on fries because the fish eat straws and snails available in the field. With the model of fish farming in rice fields, Na earns over 300 million dong from the 4ha field after each flood season. This model brings in higher profit and takes less time than the third rice crop.
During this food season, local farmers are supported to culture fish in a 500 ha field by the Agriculture sector. Besides, farmers are instructed with farming techniques by professional officers. Engineer Lê Hoài, Head of the Extension station in Giồng Riềng district said that in the flood season in 2022, as many as 4,617 ha of rice field has been used for fish farming in 19 communes and towns of the district, 1,000 ha higher than the same period last year. Thus, the third rice crop areas have reduced, products have been diversified during the flood season, contributing to an increase in profit from 7 to 10 million dong/ha, even 15 million dong/ha during three months of the flood season.
VFM