News
Kiên Giang: Nearly 450ha of shrimp damaged due to summer heat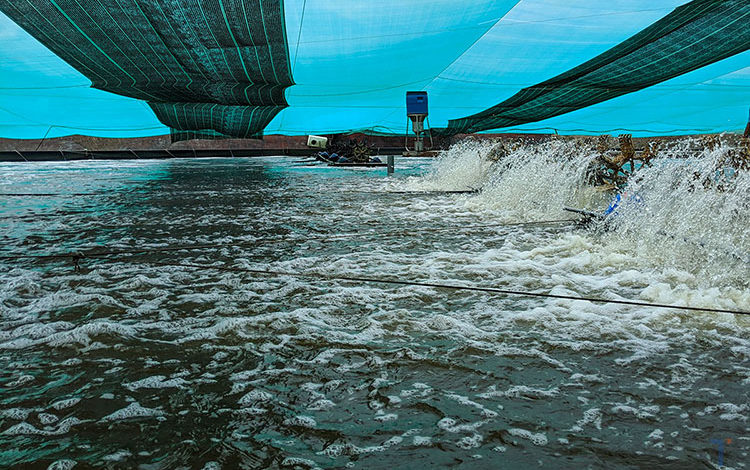 Summer heat resulted in disease outbreaks in shrimp farms since late March and damaged many shrimp ponds in Kiên Giang. The Agriculture sector is working out solutions to reduce the mortality of shrimps and damages faced by farmers.
Kiên Giang's agriculture sector said that due to the summer heat, the temperature changed suddenly, affecting the health of shrimp and causing pathogens and disease outbreaks. By April 18, 2023, as many as 446.4ha of brackish water shrimps farms had been damaged, with 308.7ha of shrimp being infected; 130 disease reservoirs were detected and 137.7ha of shrimp were damaged due to heat stress. 
Shrimp farmers in An Biên, An Minh, Gò Quao, Vĩnh Thuận, and U Minh Thượng said that disease outbreaks has occurred at the peak of the summer heat of the dry season (2022-2023), since about early March this year. Some households harvested shrimps but low output was reported, compensating for just a small cost on baby lobsters. Most of the shrimp ponds infected with diseases are 100% damaged and such a massive death completely failed the capital recovery. 25,500 kg of Chlorine has been provided to 101 shrimp households suffering from white spot syndrome virus and Acute Hepatopancreatic Necrosis Disease for pathogen treatment.
Kiên Giang provincial Sub-department of Agriculture said that by April 18, as many as 125,713 ha had been filled with brackish water shrimp, reaching 91.47% of the 2023 plan. About 23,449 tons of shrimps were expected to be produced, reaching 19.65% of the 2023 plan. Bad weather was forecasted to set in and shrimp farms could be damaged. Rising temperature, high salinity, and polluted water environment lowered the resistance of shrimp, and enabled virus and bacteria to grow, especially pathogens of white spot syndrome virus.
So as to reduce damages during the summer heat, professional institutes have cooperated with local authorities since the beginning of the crop to provide farmers with solutions to disease prevention.
VFM