News
Massive death of clams in multiple provinces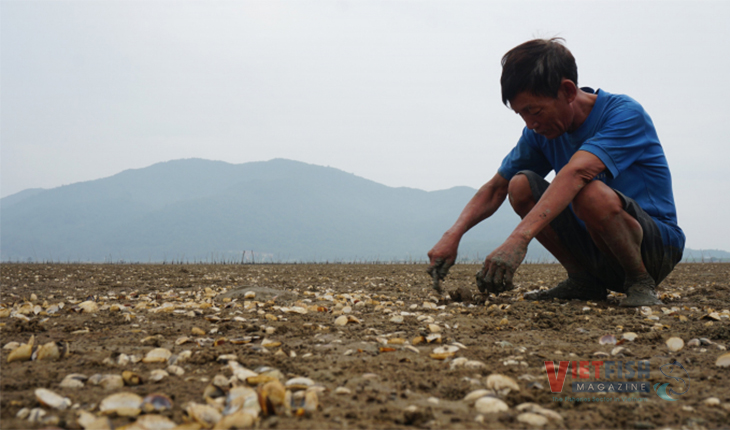 Massive death has occured in multiple provinces in the last time, leaving damages of tens of billion dong.
Around 80 hectares of clam owned by 36 households in Mai Lâm village of Mai Phụ commune, Lộc Hà district, Hà Tĩnh province are seeing the sudden death of clams. It has happened for more than one month, with the vast majority this month. Farmer Lê Văn Thuận said that his family had nearly 3 hectare of clams and spent over 50 million dong on broodstock; however close to 60 tons of commercial clams were found dead in the harvest run-up. Or worse, farmer Nguyễn Thị Hải had 5 hectares of commercial clams and 80% of them were found dead with most of them going to be harvested.
Vice Chairman of the People's Committee in Mai Phụ commune Nguyễn Trọng Hợp said that a single hectare could produce 30-35 tons of clams on average and the owner would earn 400 million dong revenue with the current price of 12,000-14,000 dong/kg. Thus, 30-50% of clams were found dead on average has left a damage of tens of billion dong to the farming areas.
The Hà Tĩnh Sub-department of Animal Health came to take samples for testing and the results showed that it was not an epidemic that caused clams' death but it was the long lasting farming duration, poor farming environment, high stocking density, and unusual weather. Farmers are collecting dead clams and harvesting the surviving ones, then are going to clean the farming areas carefully.
At the same time, hundreds of hectares of clams owned by the fisheries cooperatives in coastal districts of Bến Tre were allegedly caused to death by highly increasing salinity and difference in temperature between day and night. The Bến Tre sub-department of Fisheries said that massive death has happened many times this month, damaging hundreds of hectares of clam. The Rạng Đông Cooperative of Fisheries in Bình Đại district is suffering from 65 hectares of damaged clam pond, with clams already weighing up 50-200 pcs/kg and density of death at 3.5-6kg/m2 and mortality rate of 60-90%.
The An Thuỷ Fisheries Cooperative in Ba Tri discovered dead clams on January 20, with some still being found dead at times now. The vast majority of deaths occurred in high areas of around 50 ha, with clams already weighing up to 70-80 pcs/kg, mortality rate of 70-80%. The Tân Thuỷ Cooperative of Fisheries is suffering from 119ha of clams being found dead, with mortality rate of 60% while the Bảo Thuận cooperative is 43-60%.
In Thạnh Phú district, the Thạnh Lợi Cooperative of Fisheries owns 80 ha of clams and is experiencing the same situation due to the early salinity period of the year. As much as 8.4 billion dong was invested into Lot no.2 and stocking started early December 2019. When clams reached size 200-300 pcs/kg, 90% of them were found dead, leaving the damage of 7 billion dong. Meanwhile, lot no.3 of 40 hectares of clam has discovered dead clams since before Tet Holiday, leaving estimated damage of 14 billion dong worth of 700 tons and mortality rate of 70%. The remaining 30% of clams is the only hope for farmers to cover their initial investment; however clams size 90-100 pcs/kg are way from harvest.
The tense situation has urged the Bến Tre Fisheries sub-department to work with Animal Health sub-department and Research Institute of Aquaculture no.2 to carry out a survey and collect samples of dead clams for testing at the Regional Animal Health no.6 to find the cause.
The results show that it was not parasite Perkinsus olseni that caused death to clams. It must be highly increased salinity up to 26 – 30‰ (up to different areas) and the difference of temperature between day and night.
The Bến Tre sub-department of Fisheries advised cooperatives to regularly clean and gather dead clams to prevent polluted environment and harvest grown clams to reduce possible damages.
VFM