News
Ninh Thuận focuses on developing traceability for protecting and promoting trademark of post larvae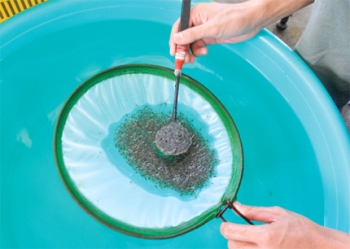 Ninh Thuận has a strength of producing post larvae. To protect and promote the provincial trademark, the province's agriculture sector is tightening as well as announcing the traceability.
Ninh Thuận is known as the largest post larvae area in the country with more than 450 producing facilities and nursery ponds of 150,000m3 total. Whiteleg shrimp, black tiger shrimp sweet snails, and fish fries are mainly produced in the province. Ninh Thuận produces as many as 35-40 billion post larvae, satisfying more than 30% of the country's demand. 
According to Ninh Thuậ's Sub-department of Livestock and Animal Health, the province has three breeding areas, mainly Ninh Hải, Ninh Phước, and Thuận Nam districts. With a clean sea environment and favorable weather, local post larvae are highly evaluated in quality and have become favorite to consumers. 
Besides 100% foreign owned capital companies such as C.P, Việt Úc, Uni, Grobest, Hisenor, other companies with productivity of one billion post per year such as Minh Phú Corporation, S6 Ltd., Co, Hồ Trung, and Nam Mỹ are located in Ninh Thuận.
Huỳnh Minh Khánh, Deputy Director of Ninh Thuận's Sub-department of Livestocks and Animal Health said that local post larvae have been produced in the development direction of concentration, scale increase, and association with small scale facilities to establish companies and large enterprises. 
Besides, Ninh Thuận pays special attention to facilities, equipment, production process, biotechnology appliance, biosafety so as to increase the quality of post larvae. 
Determining post larvae production as a local "treasure", upon its function and mission, Ninh Thuận's Sub-department of Livestocks and Animal Health has been enhancing the quarantine of aquatic breeds to protect the local trademark of post larvae.
In Khánh's opinion, the Sub-department works with the Sub-department of Animal Health to enhance the supervision of imported shrimp broodstocks during the quarantine, with 76,183 adult shrimp being supervised, 
Moreover, testing for diseases has been carried out on 16,584 samples of aquatic species subject to production. Samples were taken at the post larvae transition period so that production is assured. The transportation of post larvae and 100% of cargos were tested negative to dangerous diseases as regulated. 
As many as 5,998 samples were tested for White Spot Syndrome Virus – WSSV; 4,399 samples were tested for IHHNV, and 5,778 samples were tested for AHPND. 24 samples were detected positive to AHPND and the disease cluster was destroyed as regulated in the Circular no.04/2016/TT-BNNPTNT dated May 10, 2016 by the Ministry of Agriculture and Rural Development.
VFM