News
Pangasius industry sees gloomy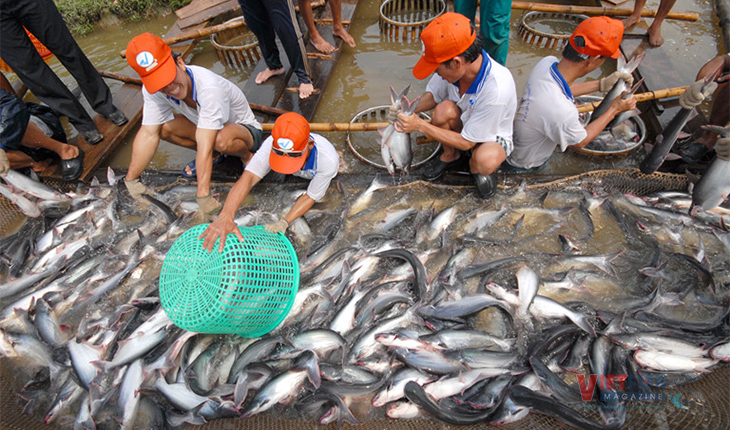 The Mekong Delta farmers of commercial pangasius and baby fish have been experiencing a dramatic drop in selling price for the very first time. This means they are suffering a serious loss.
According to Vietnam's Pangasius Society, difficulties in exports have led to a 30-50% drop in price of material pangasius and baby pangasius in the Mekong Delta since December 2019. Those suffering the most include An Phú, Châu Phú, Châu Thành, TX Tân Châu districts of An Giang province, Hồng Ngự district of Đồng Tháp province, Ngã Bảy city, Châu Thành, Châu Thành A districts of Hậu Giang province, Vĩnh Thạnh, Thới Lơi district of Cần Thơ city, and Tân Thạnh, Mộc Hoá districts of Long An province.
Nguyễn Tấn Phong, Director of the Đại Thắng Aquaculture Cooperative in Đại Thành commune of Ngã Bảy city said: "The pangasius market is experiencing a considerable fluctuation with farmers being lack of response. Once 28,000 – 29,000 dong/kg, it drops to 16,000 – 17,000 dong/kg, which is 4,000 – 5,000 dong/kg lower than investment cost. Even though the price almost hits the bottom, companies refuse to buy because the biggest destination China halts its purchase. They all have to wait for Covid-19 to be contained. Many pangasius farmers are reducing the feed amount because the bigger a fish is, the cheaper it will be".
Not only does the price of commercial pangasius drop, but also the baby pangasius market is dull. According to experts, despite massive production of baby fish in the Mekong Delta, some problems still count. Farmers lack experience, fail to follow recommendations given by professional sectors, fail to meet the requirement of necessary equipment quantity and quality, resulting in low quality baby pangasius.
VFM