News
Sóc Trăng Effective farming of black tiger prawn M9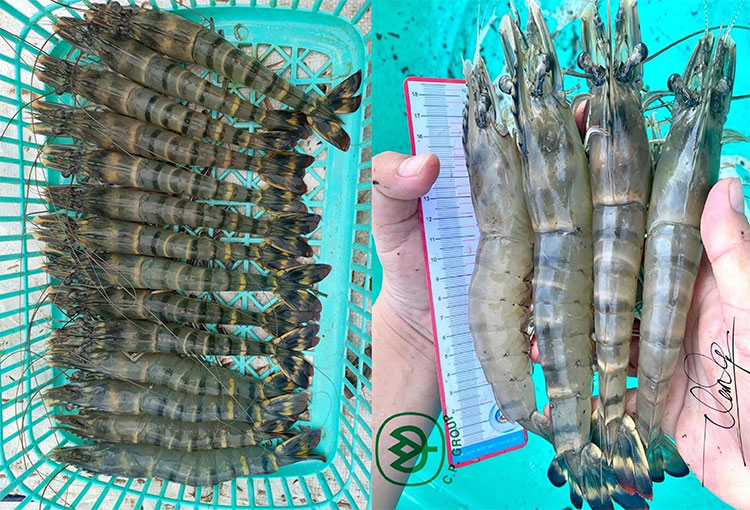 Many farmers in Mỹ Xuyên, Sóc Trăng have shifted to stock the new black tiger prawn M9 produced by C.P Vietnam Corporation in this crop. Even though it's not the harvest time, most farmers agree that the black tiger prawns M9 are the best and promise to bring in the most bumper crop ever as compared to other black tiger prawns stocked before.
The Sóc Trăng province spends around 50 thousand hectares stocking shrimp, with one third being spent on rearing giant tiger prawn. This is the reason why domestic and foreign companies do not stop studying to produce an outstanding shrimp seeds like white leg shrimp, with the best traits such as fast weighing up, good resistance, high density of stocking, and big size so as to satisfy the market demand.
This year, many black tiger prawn farmers in Sóc Trăng have shifted to use the CPF-Turbo M9 black tiger prawn with super growth performance that is produced by C.P Vietnam Corporation. In Mỹ Xuyên alone, farmers had a bumper crop with profit beyond their expectation thanks to this M9 breed.
Lê Hoàng Khương, a shrimp farmer in Mỹ Xuyên district contacted a technical official of the C.P Vietnam Corporation directly to learn about the black tiger prawn M9 and decided to order 200,000 post larvae M9 to stock in some of his grow-out ponds. After 143 days following the officer's instructions carefully, he harvested 1.9 tons of medium-sized shrimp, 15-21 pcs/kg averagely, in the first harvest. His black tiger prawns were sold at 220,000-240,000 dong/kg. Many farmers in Mỹ Xuyên had an abundant crop with black tiger prawn M9.
The C.P Corporation is developing a hi-tech farming model of black tiger prawn M9, namely CPF-Combine Black Tiger, to help farmers increase the success rate, produce large shrimp, reduce the culture period, increase output and effectiveness in every single crop. The corporation expects that the black tiger prawn sector will recover quickly and contribute to further competitiveness of Vietnamese shrimp in the global market.
VFM