News
Son La: Develop local brand "Da River Fish"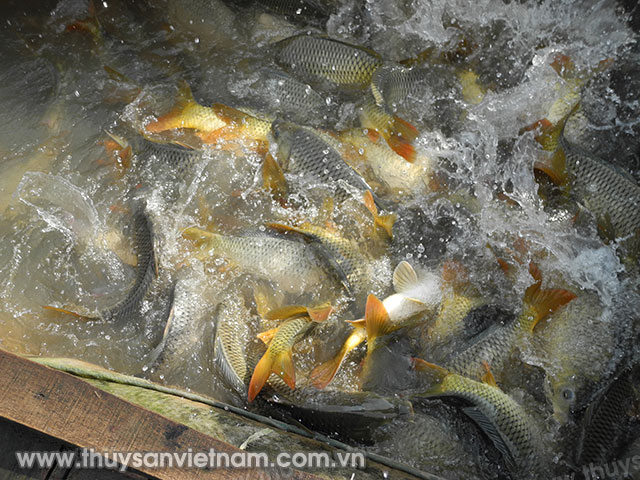 With the advantage of a large water surface, the environment creates favorable conditions for cage farming on the bed of Son La hydropower reservoir in Quynh Nhai district to thrive and create high economic efficiency. To develop the brand "Song Da fish", many positive development measures have been applied.
According to the Department of Agriculture and Rural Development in Quynh Nhai district, the area of ​​the Son La hydropower reservoir in Quynh Nhai is more than 10,000 hectares, spread across 9 out of 11 communes with a length of about 72km. This large area with nutrient-rich water resources creates great conditions for high economic value fish to grow and develop quickly, such as hemibagrus, carp, grass carp, and black carp.
Up to now, Quynh Nhai has 47 fisheries cooperatives and one seafood cooperative union; the whole town has more than 6000 fish farming cages. By the end of the first quarter of 2021, aquaculture output productivity will reach about 450 tons. More specifically, farmed fish will reach 280 tons, shrimp and fish fishing on the river will be about 170 tons. Cage farming on the Son La hydropower reservoir bed is one of the economic development directions in many localities in the area in recent years. Currently, on average, each fish cage earns about 14-15 million dong/crop, especially many families with good farming techniques could earn a larger profit.
However, cage fish farming in Quynh Nhai is also facing many difficulties. There is no establishment able to produce breeding fish meeting the demand of the province. Most of the source of breeding fish is imported from other places makes the production cost become higher. The main aquafeed source uses locally available agricultural by-products making the productivity. Recently, due to the prolonged COVID-19 epidemic, the consumption market has faced many difficulties, fish prices decreased, affecting the income of livestock households.
In order to ensure the good development of cage fish farming, in the coming time, Quynh Nhai district will strengthen training on pond fish farming techniques and cage fish farming techniques for livestock households in order to switch toward high intensive farming. In addition, organize working groups throughout the town to the commune to manage, exploit, and protect aquatic resources in the Son La hydropower reservoir. At the same time, implement the management of the use of the good quality seed, especially those suitable for cage farming such as amur, trout, sturgeon, carp and tilapia.
The local government also needs to create conditions to support cooperatives to process fish from the cage farming products, focus on managing and developing the "Da river fish" brand, expand the market, continue to evaluate Cage farming facilities to meet the VietGap and GlobalGap standards to improve the value of cage farming fish.
VFM