News
Sơn La: Fish farmers hit hard by reservoirs unstable water levels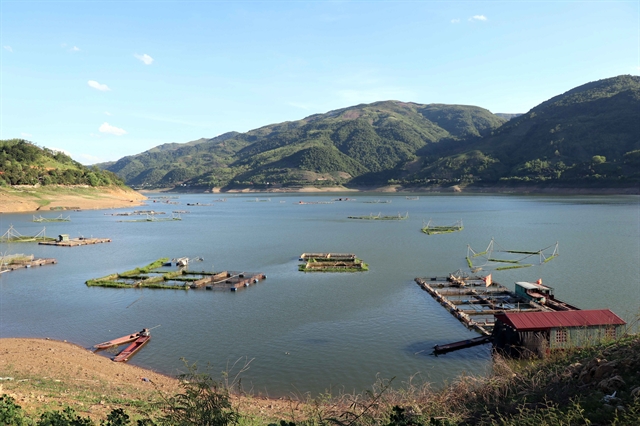 Hundreds of households that raise fish in cages on the waters of Hoà Bình hydropower reservoir have struggled in recent years due to unstable water levels.
Since Hoà Bình hydropower dam blocked the water flow in 1986, communes in Phù Yên District of Sơn La Province have had a water surface area of ​​up to 3,076ha which helped the local people living near the reservoir develop the fisheries industry.
Since 2010, many households in the communes of Tân Phong, Bắc Phong, Tường Phong, Tường Tiến, Tường Hạ and Nam Phong have switched to caged fish farming.
Like many other local households, Lường Văn Đức's family in Hạ Lương Hamlet of Tường Phong Commune started the caged fish farming in 2012.
Initially, he raised fish for his family's daily needs, but when he saw the large market demand, his family borrowed capital to scale up.
Now, he has six fish cages and raises about 10,000 fingerlings including trout, grass carp, tilapia and bream.
The fish are raised with feed made from local agricultural byproducts such as grass, banana leaves, corn and cassava. This makes the fish flesh firm and delicious so traders in many places come to buy his wares.
However, from 2019 to now, every year from February to June, the water level in the reservoir has been low, so Đức and other fish raisers have had to move the fish cages to deeper water areas.
Worse still, from July, floods bring mud and soil and lead to a decrease in oxygen in the water, causing the sudden death of many fish.
Đức said: "Caged fish farming was the main source of our family's income."
"But fish farming depends on water resource, so it has been greatly affected in recent years," Đức said.
"Currently, the water depth in Hoà Binh reservoir at my fish farming location is only 7m as compared to 15-20m in past years," he said.
Tường Phong Commune has a total natural area of ​​more than 52sq.km but most of the agricultural land is hilly, infertile and eroded by rains and floods so it is difficult to farm on, so caged fish farming has become key to local economic development.
Currently, the commune has 219 fish cages with a total output of 220 tonnes of fishes.
Due to the low and rapidly receding water level in the reservoir, commune authorities have asked breeding households and co-operatives to move cages to deeper water areas to reduce damage.
Cầm Văn Thống, the commune People's Committee vice chairman, said that the commune had encouraged the development of cage fish farming for three villages.
But at present, faced with the unstable water source of the reservoir, the commune would guide people to change the structure of their breeding stock, Thống said.
He said the focus would be on building nursery areas for fish to reach a certain weight and then raise them in cages to limit damage, he said.
Meanwhile, in Tường Hạ Commune, in previous years, local people had stable incomes from raising caged fish in the reservoir.
But with the water level is unstable and decreasing sharply in the last 2-3 years, cage fish farming has been seriously affected.
Every year, the number of breeding households and the number of cages decrease. The number of cages dropped to 14 this year from 28 in 2020.
Despite his stable income of VNĐ50 million (US$2,200) per year from caged fish farming and experience learnt over the past 10 years, Lò Quang Huy in Khảo Hamlet of Tường Hạ Commune could not avoid losses due to erratic fluctuations of water level in Hoà Bình reservoir.
In 2018, Huy's family lost more than VNĐ70 million (US$3,000) from fish farming.
In the past two years, he has reduced the number of fish and changed some fish varieties to adapt to the seasonal water environment and deal with the disadvantages of water level changes.
Huy said: "With the current situation, I have to regularly monitor the changes of the water levels to move cages in time to avoid losses."
He has tried to maintain the business because all his money is tied up in farming.
Phù Yên District currently has more than 3,350ha of water surface capable of aquaculture.
For the past 10 years, caged fish farming in the reservoir has brought high economic efficiency and made local people's lives better. However, the instability of the water source has significantly affected the fish farming process.
Bạc Cầm Thị Xiêng, head of the Phù Yên Department of Agriculture and Rural Development, said the district has 600 fish cages and the goal was to reach 800 by 2025.
However, cage fish farming was currently facing difficulties due to unstable water levels, so the breeding period was now only 6-7 months, leading to low yields, Xiêng said.
In addition, when the water in the reservoir receded, the agricultural sector was not informed, leading to breeders finding out too late to move cages and harvest their fish, she said.
To help fish farmers minimise losses, the department recommended relevant offices notify local authorities about reservoir water discharges, she added.