News
Nghệ An: Shrimp farmers suffered loss in profit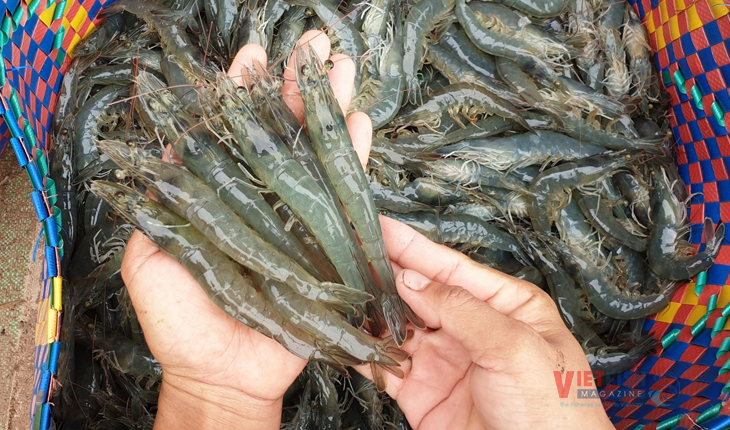 Shrimp are frequently infected; input prices are high, while the selling price of commercial shrimp has dropped deeply due to the impact of the Covid-19 epidemic, causing losses to shrimp farmers in Nghệ An.
Shrimp price decrease significantly
Mr. Ho Mau Toan – owner of a shrimp pond in Đồng Văn hamlet, Quỳnh Bảng commune (Quỳnh Lưu) said that he has been a shrimp farmer for 21 years since 2000, but he has never seen a loss like these two years.
According to Mr. Toan, the cause of the loss was due to the polluted water source, causing the shrimp to often suffer from diseases and slow growth; At the same time, input prices increased, along with the impact of the Covid-19 epidemic, causing shrimp prices to decrease from 120,000 to 70,000 – 80,000 VND/kg.
"The surrounding ponds and lagoons are empty because the families have finished harvesting the second crop, but at a loss, people stop farming. As in previous years, at this time, people focus on treating ponds and lagoons, preparing to raise shrimp for crop 3, but now very few people invest in farming," Mr.Toan said.
Mr. Nguyen Khac Tri in Chí Thanh hamlet, Quỳnh Bảng commune added: His family has contracted for 1 hectare of shrimp farming land in the commune since 2016, in which there have been years of good profit. However, for the past 2 years, his family has failed, because shrimp are often sick, animal feed has increased, and the price of shrimp has dropped sharply. The situation of the Covid-19 epidemic is complicated, which will affect the price of shrimp, so the family does not dare to invest in the next crop.
Quỳnh Bảng is one of the localities with the largest shrimp farming area in Quỳnh Lưu district. Mr. Vu Van Duong – Chairman of Quỳnh Bảng Commune People's Committee shared: Unlike the previous period when shrimp enriched people, shrimp farmers now face many difficulties. For both 2020 and the first 6 months of 2021, in general, most shrimp farmers in the commune are at a loss.
According to Mr. Bui Xuan Truc – Deputy Head of the Department of Agriculture and Rural Development and Quỳnh Lưu district, according to the recommendations of specialized agencies, only one shrimp crop a year, but for many years, people have already have farmed 3 crops/year thanks to the carefully invested ponds and lagoons. However, this year due to a deep drop in shrimp prices, shrimp farmers have lost capital. Therefore, it is expected that this second crop of shrimp in Quỳnh Lưu district only has about 300 hectares out of a total of 465 hectares of shrimp ponds in the whole district.
Hoàng Mai town is a locality with an area of ​​450 hectares of shrimp farming, most of the shrimp farmers here are also at a loss. Mr. Vu Xuan Luong – Deputy Economic Department of Hoàng Mai town said that the main reason for shrimp farmers in the town to lose money is because the selling price of shrimp has decreased by 30-40% compared to before. The decline in shrimp prices has occurred since the beginning of the Covid-19 epidemic from the beginning of 2020 until now.
Shrimp Farming process need to be changed
Mr. Tran Xuan Hoc – Deputy Director of the Department of Agriculture and Rural Development said: Currently, brackish shrimp farming is mainly white shrimp, this type of shrimp is raised at high density in ponds and lagoons. Therefore, for white-leg shrimp farming to achieve high efficiency and reduce disease, shrimp farmers need to change the farming process.
Firstly, the current pond area is often divided by 70% and 30%, which means that the raising pond accounts for 70%, the storage pond with 30% is not suitable. It is necessary to change that the raising pond accounts for 30% and the storage pond accounts for 70%, in order to ensure the environment for the water source.
Secondly, the pond area is often too large, over 2,000 m2 is very difficult to care for and difficult to handle infected shrimp. Therefore, it is necessary to plan ponds, or farming tanks with an area of ​​less than 1,000 m2, to facilitate the care and management of shrimp diseases.
Third, during the farming process, it is necessary to transfer the shrimp to three ponds for the shrimp to grow well in the new water environment.
Nghệ An currently has 2,280 hectares of brackish shrimp farming. In the first 6 months of the year, shrimp farming output reached nearly 4,300 tons, up 25.33% over the same period in 2020.