News
Vietnamese tuna enjoys benefit from the US-China trade tension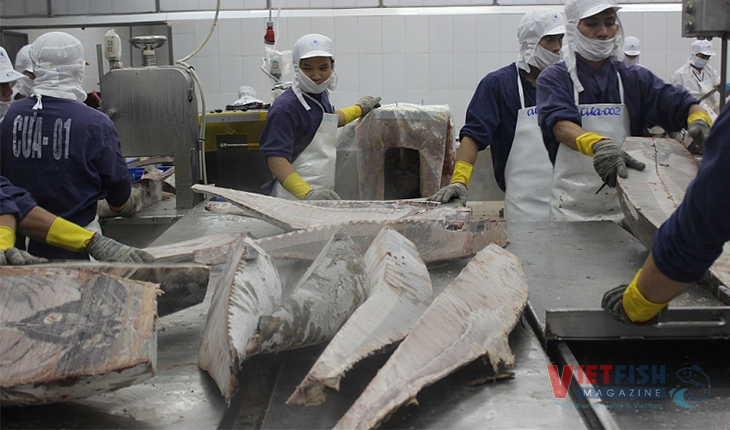 Not only has the US-China trade tension boost the increase in value of Vietnamese tuna exports to China but also to the US market.
The data from the International Trade Center (the US) showed a noticeable sale of Vietnamese tuna to the US market in the first nine months of the year with total import value of US$ 1.469 billion, up 8.21% as compared to September 2018, reports VASEP.
The import value of Vietnamese tuna increased by 51.9%, reaching over US$ 229 million, giving Vietnam the second rank of all tuna suppliers to the US market, after Thailand. However, such growth was the highest and seven times as high as the top seller Thailand's growth (increase by 7.12% in the first nine months of the year). Besides, the market share of Vietnamese tuna in the US raised by 15.6%.
According to some experts, the rising demand of the American and the US-China trade tension resulted in growth of Vietnamese tuna sale in this market.
Once held the most market share of frozen tuna loin in the US with 18,109 tons of exports in 2018, China was trailed by Thailand and Vietnamdue to high tax imposition policy from the US.
China's canned tuna is suffering from the import tax imposed by the US although this country sold 3,769 tons of canned tuna to the US in 2018. China was once the US's biggest supplier of tuna family species, with export volume of 12,379 tons in 2018. Some tuna family species from China are imposed tax 25% when exported to the US.
These products are sold in the US market under the name of Chunk Light and hit the food services sector.
The rising import tax has caused serious difficulties to Chinese tuna family species competing in the US market and forced the US importers to find the replacement with lower price, including Vietnam.
Some China's tuna products imposed high tax includes fresh tuna, Atlantic bluefin tuna, Pacific bluefin tuna, southern bluefin tuna, albacore or fresh or ice glazedlongfin tuna, except liver, egg, fillet, albacore meat or longfin tuna meat.
According to VASEP, the US imports a variety of Vietnamese tuna, from fresh tuna to frozen, processed or canned tuna like frozen yellowfin loin, frozen bluefin cub, frozen yellowfin saku, canned bigeye tuna meat, canned sauce tuna.
Vietnam's tuna loin and frozen fillet are the main products exported to the US, followed by canned tuna and processed tuna. The US buys a lot of processed tuna products with the import value reaching US$822 million in the first nine months of 2019.
The other two items reaching hundreds of million USD include frozen fillet tuna (over US$366 million) and fresh/frozen yellowfin tuna (US$161 million).
VFM