Aquaculture
Fluctuating market fails Hà Tĩnh's shrimp farmers in the new crop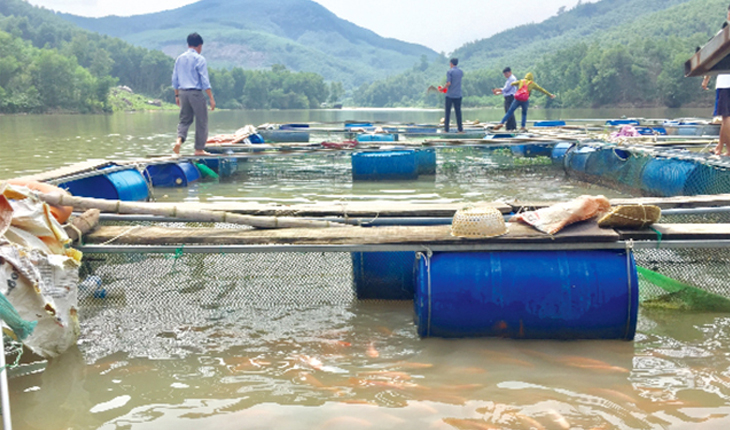 The globally overwhelming COVID-19 pandemic puts a gloomy picture on the shrimp market with a continuing slump of prices. Many farmers in Hà Tĩnh take no interest in the new crop.
Farmer Hồ Quang Dũng (in Xuân Phổ commune of Nghi Xuân district) shared that: "In the main crop from March to July, I earned low profit making an early harvest because shrimps weighed up slowly. The second surge of coronavirus hitting right in the run-up to winter crop affected badly the market, making me hesitate. I will possibly stock around 8 million post larvae in 4-5ha of the total of 12ha".
"We face a lot of difficulties stocking shrimps in the winter crop (from August to December) as the weather is unpredictable. Besides it's hurricane season with a lot of possible disease outbreaks, production costs increase due to long time cultivation, and prices of shrimps are unsettled. That's why I can't take risks", said Dũng.
In the face of an overwhelming coronavirus outbreak, shrimp farmers in Thạch Hà district are considering and taking precautions for the next crop.
Dương Đình Hùng (in Thạch Trị commune of Thạch Hà district) said: "Covid-19 hits back when exports are facing difficulties and the domestic market has not been recovered after a long period of stagnant business. Prices of white leg shrimp have hit rock bottom with shrimps size 100 pcs/kg being sold at 70-75 thousand dong and shrimps size 60 pcs/kg being sold at 100-110 thousand dong while prices of feed and medicines are increasing".
"This crop comes with a lot of challenges. Big production costs and unpredictable prices are making farmers reduce their stocking or even empty their ponds till the next crop", said Hùng.
Nguyễn Văn Hòa (in Thạch Hạ commune of Hà Tĩnh city) said: "Prices of shrimp can not increase rapidly. I stock shrimps in 1 or 2 ponds first and monitor the market situation to decide whether to continue stocking or not. More than 40,000 postlarvae have been imported and will be stocked one week later when ponds are all cleaned".
A lot of shrimp farmers in Hà Tĩnh shared that prices have fallen sharply since February, 25-30% lower than those in previous years. Farmers have been facing challenges in producing and finding sellers because shrimps were not exported to China, mainly destined for the domestic market.
Suffering from loss due to unsettled market and unpredictable prices, shrimp farmers in large farming areas in Xuân Yên, Đan Trường, Cương Gián communes (Nghi Xuân district), Yên Hòa commune (Cẩm Xuyên district), Thạch Trị, Thạch Long, Thạch Sơn communes (Thạch Hà district) are reluctant to invest into production or produce half-heartedly while monitoring the market to prevent from loss.
VFM