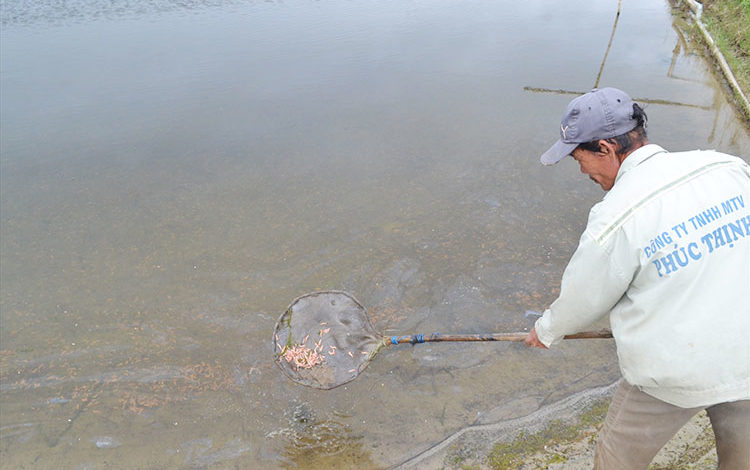 Early rains falling all over the Mekong Delta when May approaches result in environmental changes and disease outbreaks. Disease monitoring results by provincial animal health care institutes and testing results from damaged shrimp ponds showed the presence of dangerous diseases, especially Microsporidian caused by Enterocytozoon hepatopenaei (EHP).  
Worries about disease outbreak
On May 05, Chairman of Sao Ta Foods JSC Hồ Quốc Lực told reporters of VFM about the appearance of EHP disease in some farming areas in Sóc Trăng. Deputy Head of the provincial Sub-department of Livestock production and Animal Health Đào Văn Bảy confirmed: "Observing shrimp farming areas in the province, we recognized the appearance of white spot syndrome, acute hepatopancreatic necrosis, and Enterocytozoon hepatopenaei with a high rate of infection, resulting in damages. Ten of the samples were positive for two diseases and four samples were positive for three diseases in three key farming areas in Vĩnh Châu town, Trần Đề district, and Cù Lao Dung district".
As for the EPH infection, farmer Thái Sứ Cơ in Hòa Bình district of Bạc Liêu province said that local shrimp farmers were extremely worried about EHP infection as it does not cause mortality but slow growth. Cơ said: "After EMS and white spot syndrome were well controlled, EHP emerged and damaged shrimp. This year is no exception when large farming areas nearby have been found infected with these parasites. It is like an epidemic because if EHP is found in a pond, the auxiliary ponds will be infected just after a short time. EPH is the biggest concern, not EMS".
Not only Sóc Trăng, Bạc Liêu, but some provinces related to shrimp culture in the Mekong Delta are reported with the infection of EHP and some other dangerous shrimp diseases. According to results by the TVU Center for Product Evaluation of Trà Vinh University, ten samples sent by a customer from Duyên Hải town were positive for EHP, three samples sent by a customer from Mỹ Long Nam commune of Cầu Ngang district were also positive for EPH, and 18/22 samples sent by another customer from Duyên Hải are positive for this disease. According to shrimp farmers in Duyên Hải town, a large number of shrimps were found slow-growing and most of the samples taken from local farming areas were tested positive for EHP, pond liners or inland round ponds included.
These are concerning results because the Mekong Delta is preparing for the run-up to the main harvest. Besides this, the early crop has just been harvested and the new stocking has just been conducted for 15-50 days. In the shrimp farming area owned by the Vietnam Clean Seafood Corporation, shrimp stocked for the first phase of the second crop of the year are now 40 days old; however, General Director Võ Văn Phục does not expect so much from this crop due to the unusual weather and disease outbreak which occurs neary 45 days earlier than previous years. He said: "The first crop was difficult this year because of either temperature difference between day and night or the heavy off-season rain lasting over a week in March, resulting in a decrease in salinity in most of the water resources. When the rainy season starts, EHP parasites easily emerge and damage shrimps. This rule is being proven by the actual situation.
Active prevention
EHP is an intracellular microsporidian with no specific treatment; thus antibiotics are not effective. If shrimp are found dead unusually or slow-growing after 25 days since stocking, farmers should report to local animal health care offices to find out the cause and be given proper solutions as regulated. For EHP prevention, Bảy said, farmers must follow biosafety principles in managing shrimp ponds, such as: prevent strangers from entering the pond, sterilize equipment after use, filter water (when replacing or supplement water to the pond), prevent crustaceans by surrounding mesh and natural birds by proper methods, and absolutely do not move shrimp from the infected pond to the other shrimp pond so as to prevent cross-infection.
The shrimp exporting market is promising; however, according to companies, if materials are in short supply, they will step up efforts in vain. Thus, companies have been worried about the information of shrimp disease outbreak because if prompt solutions and effective treatment are not provided, material shortage is inevitable, even during the main harvest season this year. The rainy season has approached. The salinity in farming areas will continue to decrease. Unless proper solutions are not provided, a widespread disease outbreak is highly possible.
VFM
According to reports by the Animal Health Care sub-department during the Workshop "Prevention of disease outbreak on seafood in 2022" held by the Ministry of Agriculture and Rural Development in May 07, a total of 11,000 hectares of aquaculture area have been damaged, 2.14 times as much as the same period last year. Mainly brackish water shrimp farming areas were destroyed, with 10,814 hectares being reported, 2.2 times as much as the same period last year, accounting for 2.1% of the total shrimp farms of the country. White spot syndrome, acute hepatopancreatic necrosis and EHP were found. Extensive shrimp farming ponds, which were built on natural ponds with poor rehabilitation and existing water resources, filled together with various species such as fish, mud crab, and mollusk, added with zero industrial feed, and have used traditional broodstocks in the whole year, were attacked.
Phùng Đức Tiến, Deputy Minister of Agriculture and Rural Development

In the future, the agriculture sector of provinces and cities must assign staff to effectively hold national programs and plans of animal diseases prevention approved by the Prime Minister. As in the significant seafood farming areas, the local authorities must follow up the course of the disease outbreak, catch up with updated information of the diseases and unusual death of species, take samples for testing to find out the causes, and instruct farmers with specific solutions to enhance the disease prevention. Plans of supervision for active prevention and programs of environmental monitoring must be carried out so that local farmers will be warned promptly and given specific and effective treatment methods. The quality of water resources must be improved, wastewater and charge must be handled, and sterilization must be conducted so as to prevent pathogen emergence, environmental pollution and widespread diseases.