Aquaculture
Shrimp farming with Semi biofloc technology for dual benefits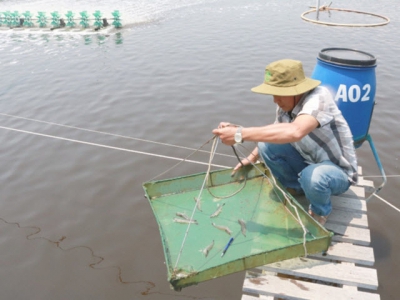 Not only bringing economic efficiency, but white shrimp farming with Semi biofloc technology also helps protect the environment thanks to a methodical waste treatment system.
Chinh said, thanks to Semi biofloc shrimp farming technology, shrimps grow quickly and diseases are controlled. Photo: KS.
Dual benefits
After gaining the first success in the first batch of white-leg shrimp harvest amidst the Covid-19 pandemic, Le Minh Chinh, a shrimp farmer using Semi biofloc technology, in Ninh Phu commune (Ninh Hoa Town, Khanh Hoa) can not hide his delight thanks to the fruitful output.
Chinh said that in the area of around 1.5 hectares, after 90 days of feeding, he collected 70 tons of shrimps, size 50-70 pieces per kilogram. For the group of 70 pieces per kilogram, he can sell at VND 130,000 per kilogram while that of 50 pieces per kilogram is VND 135,000 per kilogram, after paying all costs, he garnered billions of dong.
"Over the past years, we adopt Semi biofloc technology in shrimp farming and it shows effectiveness in harvesting. Furthermore, the model also helps protect the farming environment without discharging wastewater directly into the environment", Chinh affirmed. He learned the technology from Thailand and combined it with the research document "Practicing Biofloc Technology" by Assoc. Prof. Dr. Hoang Tung and the research group of Vietnam National University – Ho Chi Minh City.
Accordingly, Semi biofloc technology is to clean and stabilize the environment by microalgae. Biofloc is a heterotrophic bacteria, algae, and humus that helps to purify water, providing a rich source of nutritious food for cultured subjects, and inhibit the growth of pathogenic microorganisms. Since then, shrimp can grow quickly, diseases can be controlled and food safety is ensured.
Since 2014, Chinh has applied and researched to meet the real situation of each crop, so far he has completed it methodically. At the same time, he applied a 3-stage (or 3-phase) method. In the first stage, shrimps are stocked on floating tanks, then they are moved to an outdoor pond according to Semi biofloc technology and reduce the density of shrimp by half in the final stage and feed them until they reach the target size and then harvested.
Especially with the total area of the pond of 10 hectares, Chinh only spends about 1.5 hectares of which for shrimp farming. The remaining area is a waste collection system and a compensation water treatment system for shrimp farming.
Expanding the model
According to the Chairman of the People's Committee of Ninh Phu commune, the total area for white leg shrimp farming is 110 hectares.
Previously, shrimp farming on earthen ponds did not bring many benefits due to the effects of climate change. Along with that, the pond system has operated for many years, so the environment is substandard, pathogens remain in the ponds, easily causing diseases.
Therefore, for sustainable shrimp farming, many farmers in the area have promoted the adoption of advanced technologies such as Biofloc and Semi biofloc, which are successfully applied and shared by Le Minh Chinh. Thanks to economic efficiency, today, the whole commune has about 13 hectares of shrimp farming using Biofloc and Semi biofloc technology.
"Currently, the locality continues to encourage farmers to apply technology in shrimp farming to create clean shrimp products, contributing to environmental protection," Sinh shared.
"Shrimp farming adopting Semi biofloc technology in the commune area is highly appreciated by the authorities because it treats the farming environment very well. Wastewater is discharged into the reservor, then limed for treatment and charge into the fishpond before being released into the environment. The farming method is being gradually converted by people to protect the sustainable farming environment," said Pham Thanh Sinh, Chairman of Ninh Phu Commune People's Committee.