Markets
Despite pangasius prices increase, farmers are "exhausted"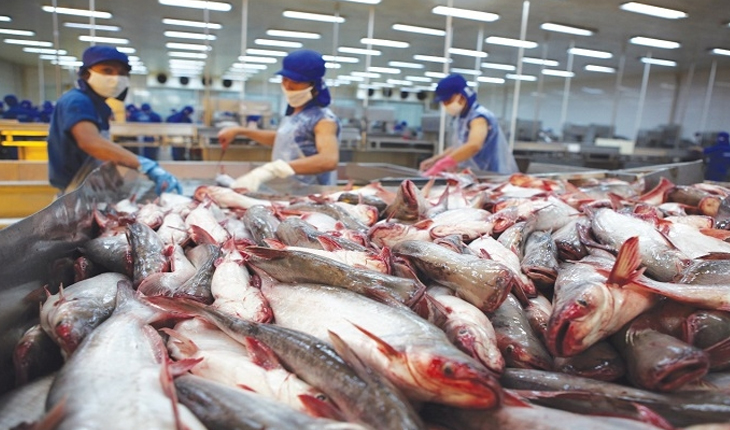 After a full year of suffering from a record low prices, pangasius farmers in western provinces are "exhausted" due to loss and seem to ignore the bouncing back of pangasius prices.
The owner of a seafood processing company in Cần Thơ said that pangasius prices have risen in the last two weeks since Chinese consumers started to consume this species. Even though sales to restaurants in the US decreased, consumption in supermarkets increased by four times, and other markets such as the EU and Southeast Asia started preparing for stockpiles at the end of the year. Prices of pangasius material purchased by companies increased up to 21,000-22,000 dong/kg.
According to this processor and exporter, some farmers bought fish fries at cheap prices (around 20,000 dong for 30 count pangasius) and production cost was at 18,000-19,000 dong/kg, thus they could earn some profit.
However, those bought fish fries at very long-lasting high prices (50,000-70,000 dong/kg) suffered from loss.
Farmer Nguyễn Ngọc Hải, 65, in Ô Môn district of Cần Thơ city, has more than 20 professional pangasius grow-out ponds said that even though selling prices inched up to 2,000-3,000 dong/kg, most farmers like him were "exhausted".
"Prices of pangasius material dropped to 17,000-19,000 dong/kg, the lowest level in the last ten years which lasted over a year", said Hải, "even processing companies that have been cooperating with local farmers had to narrow their farming area and emptied their ponds to reduce losses".
Twenty-two members of the Đại Thắng Cooperative, which has 8ha of farmed pangasius in Ngã Bảy town of Hậu Giang province, are lamenting. Nguyễn Tấn Phong, 69, Chairman of the Cooperative said that he harvested two crops per year with a total output of 2,500 tons. But when processing factories refused to buy pangasius, local farmers came to markets to bail out around 500 tons of pangasius for curtailing losses and having money to cover the bank interests. The rest of the fish in ponds were starved, some lost weight to 300-400 gram each.
"We are delighted for pangasius prices increasing to 22,000 dong/kg (for 1.2-1.3 kg count fish). But around 200 tons of pangasius, one kilogram each, are left in ponds, forcing us to borrow money to buy feed and cram them up for harvesting and selling", said Phong.
Dương Nghĩa Quốc, Chairman of Vietnam Pangasius Society said that it was a good sign when prices of pangasius material in western provinces have risen for the last few days, but the losses due to slump in prices through a year long period has been a shock to local farmers.
In his opinion, in 2018, high demand for exports in the face of few stockpiles caused record high prices of pangasius material, up to 32,000 dong/kg, leaving such a big profit earned by local farmers. In many areas, farmers replaced gardens and rice fields with pangasius farms, even at some point western provinces had 6,200ha and other places had over 5,000ha on average.
In 2019, surplus and COVID-19 pandemic caused a lot of challenges to exports, resulting in a slump of pangasius material prices.
Pangasius farming area in western provinces has decreased to 4,000ha, 80% of which are owned by companies or cooperatives in association with companies as outsourcing. "The rest is owned by rich farmers while all retail farmers emptied their ponds", said Quốc.
In Quốc's opinion, despite increase in prices, oversized pangasius (2-3kg each) stocked in factories can not be consumed and tens of tons of same size fish are being reared in ponds with production cost rising up to 25,000-26,000 dong/kg. The longer they keep them, the more loss they have to suffer.
According to VASEP, pangasius is an item experiencing a slump in export revenue. It decreased by 29% in quarter I, 32% in quarter II, 27% in July and 29% in August. In September, pangasius exports continued to decrease by 14% with revenue reaching $135 million, making the accumulated export value in the first nine months of the year reach around $1 billion, down 28%. Meanwhile, in the first nine months of 2018, pangasius exports reached $1.6 billion, up 24.6%.
VFM