Markets
Four-eyed slipper with the dream of official export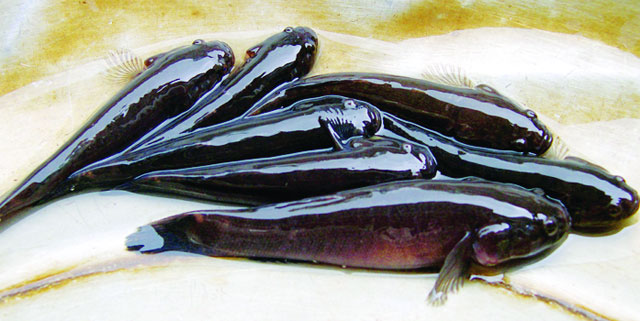 Even though a VietGAP based production system has been built, official exportation of four-eyed slipper is just a dream to farmers.
The dream of official export
Nguyễn Văn Sơn, owner of the Sơn Nguyệt four-eyed slipper farm in Nghĩa Hưng district of Nam Định province, can't stop thinking about exporting fish via official channels after a VietGAP based production system was successfully built.
According to the Nghĩa Hưng Aquaculture Association, most of the four-eyed slipper are shipped to China, accounting for about 70% of the total output, and 30% of fish is consumed nationwide. Four-eyed slipper fish in Nghĩa Hưng is more nutritious and much bigger than wild-caught fish, hence higher prices.
"Chinese consumers are in favor of this species, thus when the harvest time approaches, Chinese traders come to the farm themselves, and what I have to do is just buy four-eyed slipper from farmers and pack", said Sơn.
In Sơn's opinion, 2,000-2,500 tons of four-eyed slipper are produced each year on average and the exporting price to China stays at 320,000 dong/kg. Farmers earn about 400-500 million dong profit each year.
"Four-eyed slipper in Nghĩa Hưng grows in salt water, about 10-12 pcs/kg. Even though they are white fish, sweet, tasteful, and highly nutritious, consumers in the North rarely buy them as they are sold at higher prices than traditional cobia. However, this fish is a favorite of Chinese consumers. The first tons of four-eyed slipper were exported to China through the border gate 25 years ago. Four-eyed slipper going to China is all consumed, even a shortage occurs", said Sơn.
The skin mucus of four-eyed slipper helps it adapt to the environment much better than other fish. Thus, four-eyed slipper can stay fresh during transportation to processing factories in China and Hongkong without being iced. 
Even though four-eyed slipper is produced in a closed system from fry nursery to sales such as Sơn Nguyệt and Nghĩa Hưng Aquaculture Union, thanks to the cooperation among facilities, an official export for this fish is a difficult matter.
Before that, the Nam Định provincial department of Agriculture and Rural Development issued an official report to the Ministry of Agriculture and Rural Development for their consideration and proposal to the Chinese authority so that the province's aquatic products would be put in the list of officially exported categories.
The Ministry of Agriculture and Rural Development is reviewing, gathering and proposing species entitled to official export. Thus, seafood businesses in Nam Định must be checked and certified for food safety in accordance with regulations by Vietnam and China.
Concern about farming area
A slump in the farming areas was recorded in 2019 due to the pandemic. The Nghĩa Hưng Aquaculture Union reported that local farmers have produced in traditional ways with small facilities.
Four-eyed slipper is fed with fresh fish. Meanwhile, grow-out ponds are not rehabilitated and equipped with a circulated water system. In case of pollution or disease outbreak, the whole farming area will be affected.
According to Lê Văn Tuẩn, Chairman of Nghĩa Hưng Aquaculture Union, the main cause is planning. When detailed planning has not been issued, households keep doing it spontaneously. 
However, in his opinion, when the market slowed down due to the pandemic, farmers learnt a lesson. Many farms in Cồn Xanh, the key farming area of four-eyed slipper, invested into a circulated water system.
On the other hand, in 2021 the National Agricultural Extension Center cooperated with localities to deploy 21 fisheries extension projects, including some models of commercial culture of four-eyed slipper by industrial feed.
As a result, the survival rate of four-eyed slipper reached 81%, 1.25% higher than expected. At the harvest time, four-eyed slipper reaches 90.2 grams each, 0.2gram higher than expected. The average productivity reaches 7.3 tons/ha, 0.1 ton/ha higher than expected.
However, the farming areas have been narrowed to leave space for heavy industrial development. Farmers in Nghĩa Hưng coastal area hope that the authority creates favorable conditions for suitable planning of a culture area.
VFM