News
Bosch AquaEasy– An IoT solution for Shrimp Farmers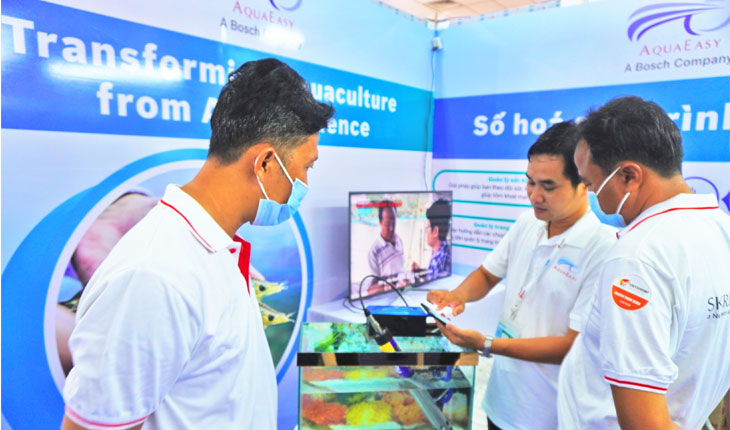 Ho Chi Minh City, April 14th – 16th 2021, AquaEasy – a Bosch company focused on developing and deploying the best technology solutions for aquaculture – participated inVietshrimp fair in Can Tho province. This is a comprehensive IoT-based solution that combines sensors, software, data analysis capabilities and Artificial Intelligence (AI) to help shrimp farmers maintaining optimal conditions to implement sustainable aquaculture practices and increase yields.
The growing worldwide demand for sustainable aquaculture products is putting pressure on the traditional extensive farming, accelerating the need for intensive and super-intensive production, which is made possible by a combination of technology, good farming practices and usage of appropriate feed and additives. Vietnam is in a good position to lead the race of intensive shrimp farming.
With an average 5 to 10% yearly growth in tonnage, Vietnam is at the forefront of shrimp aquaculture in Southeast Asia. This sector contributes largely to the countries' economy both with a significant and growing workforce and significantly contribution to Vietnam exportations.
Introduced in Vietnam since 2020, AquaEasyfeatures smart aquaculture solutions that enable farmers to reduce uncertainty, improve yields and profits as well as strive toward a more sustainable aquaculture.The solution presents a combination of high precision sensors for physical and chemical water parameters measurement, versatile software, artificial intelligence, intuitive app and direct connection with aquaculture experts.It brings to life one of the most advanced solution to support daily farming decisions.It can be said that AquaEasy is the first in the market to bundle all key features in one single solution for farm owners and aquaculture technicians.
Aiming to broaden its market shares in Vietnam, AquaEasy participated inVietshrimp fair – the biggest event gathering key players of shrimp farming industry to show its state of the art farming management solution and revealed some of the current developments that would significantly transform the shrimp aquaculture.
"AquaEasyis an end-to-end, smart IoT solution made for shrimp farmers, to help them automate a lot of their daily tasks and provide them with accurate data to boost stock health and yields. AsTheo World Wildlife Fund's information,around 3 billion people of the world population rely on seafood as their main protein, aquaculture is a vital part of the world's food supply, and the AquaEasy team make it our mission to make aquaculture production easy, smart and sustainable.", said Aries Dwiputera, Founder of AquaEasy project in Bosch.
This platform gives farmers and aquaculture technicians a comprehensive view of the farm's vital parameters, an accurate estimation of the biomass and access to best-in-class farming protocol as well as direct connection to recognized shrimp experts. This unique combination transforms aquaculture to increase harvest quantity, quality and profit.
Sustainability is at the core of AquaEasy.Byensuring accurate data collection, traceability and analysis, the solution provide insightful recommendations for farmers to make better decision, lower operating cost and significantly increase yields.
In Vietnam, AquaEasy is partnering with Vietnam National University of Agriculture in Hanoi to support the development of technology,which will accelerate the development of aquaculture in Vietnam.
Defining Vietnam as one of the key markets, Bosch AquaEasy is growing its team and efforts in this country to support the increasing number of deployments in the Mekong Delta. In addition, AquaEasy software development also benefits from the expertise of Bosch Engineering and Business in HCMC, which houses over 2300 software engineers.
Some pictures of AquaEasy at VietShrimp 2021:





Contact person for media inquiries:
Nguyen Thi Bich Phuong
Corporate Communications Manager
Bosch Vietnam Co. Ltd
Mobile: +84 9339 79246
Email: Phuong.NguyenThiBich@vn.bosch.com
Bosch in Vietnam
Bosch first started in Vietnam with a representative office in 1994 and since 2007 the company is represented by Robert Bosch (Vietnam) Co. Ltd. Bosch has its main office in Ho Chi Minh City, with branch offices in Hanoi and Da Nang, and a Powertrain Solutions plant in the Dong Nai province to manufacture pushbelts for continuously variable transmissions (CVT) in automobiles. In addition, Bosch operates a software and engineering R&D center (Robert Bosch Engineering and Business Solutions Vietnam Co., Ltd), as well as an automotive R&D center for mobility solutions in Ho Chi Minh City. In fiscal 2018, Bosch recorded consolidated sales of about USD 144 million (122 million euros) in Vietnam, achieving a year-on-year growth of more than 20 percent. As of 31 December 2018, Bosch employed roughly 4,100 associates in Vietnam. Bosch has diversified businesses in Vietnam including Two-Wheeler and Powersports, Automotive Original Equipment, Power Tools, Drive and Control Technology, Automotive Aftermarket, Building Technologiesand Thermotechnology. Additional information is available online at: https://www.bosch.com.vn/
About the Bosch Group
The Bosch Group is a leading global supplier of technology and services. It employs roughly 410,000 associates worldwide (as of December 31, 2018). The company generated sales of 78.5 billion euros in 2018. Its operations are divided into four business sectors: Mobility Solutions, Industrial Technology, Consumer Goods, and Energy and Building Technology. As a leading IoT company, Bosch offers innovative solutions for smart homes, smart cities, connected mobility, and connected manufacturing. It uses its expertise in sensor technology, software, and services, as well as its own IoT cloud, to offer its customers connected, cross-domain solutions from a single source.The Bosch Group's strategic objective is to create solutions for a connected life. Bosch improves quality of life worldwide with products and services that are innovative and spark enthusiasm. In short, Bosch creates technology that is "Invented for life." The Bosch Group comprises Robert Bosch GmbH and its roughly 460 subsidiary and regional companies in over 60 countries. Including sales and service partners, Bosch's global manufacturing, engineering, and sales network covers nearly every country in the world. The basis for the company's future growth is its innovative strength. At nearly 130 locations across the globe, Bosch employs some 68,700 associates in research and development.
Additional information is available online at www.bosch.com, www.iot.bosch.com, www.bosch-press.com, www.twitter.com/BoschPresse.