News
Thừa Thiên Huế: Aquaculture suffers damages due to summer heat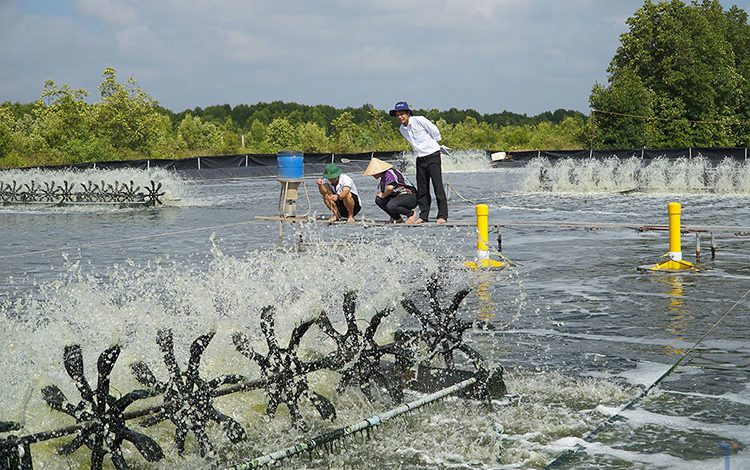 Summer heat, water level decreasing in rivers, rain storms in late afternoon, and sudden environmental change put farmed aquatic species at risk of being dead.
Quảng Thọ commune of Quảng Điền district, a centralized fish cage farming area in Thừa Thiên – Huế, reports of low feed intake and disease infection in some fish cage farms for the last week. 
According to farmers, it was attributed to the fact that summer heat attacked and just little water came from the upper stream, resulting in environmental changes in rivers and lakes, low feed intake and resistance. Nguyễn Công Tâm (in Quảng Thọ commune of Quảng Điền district) has five cages of grass carps, which are in the growth stage, in Bồ river. Hundreds of grass carps have eaten less and some have died for the last few days, making him worried.
He said that low feed intake and death had occurred after summer heat surges since early June 2023. Either his family or his neighbors with tens of cages are suffering the same situation.
Farmer Nguyễn Bằng in Quảng Công commune (of Quảng Điền district) said that summer heat has been a problem to seafood households in this area, with shrimps and fish being the most worried species among species subject to intercropping. In his opinion, ponds must be frequently checked, water leaking must be stopped, and feed must be adequate to prevent the leftovers from polluting the water environment.
According to Thừa Thiên – Huế provincial Sub-department, stunted growth and disease infection during the summer heat period are popular in some centralized seafood farming areas like Quảng Điền, Phú Vang, and Phú Lộc. The diseases can be spread when the weather predicts another summer heat surge with temperature at 39-40 degrees.
In the face of such extreme weather, environmental changes have been closely observed, water quality has been paid attention, and professional institutions have given warnings related to the management of seafood aquaculture areas so as to reduce the impact and damages caused by the summer heat.
VFM