News
Vietnam to boost cooperation with Norway in marine aquaculture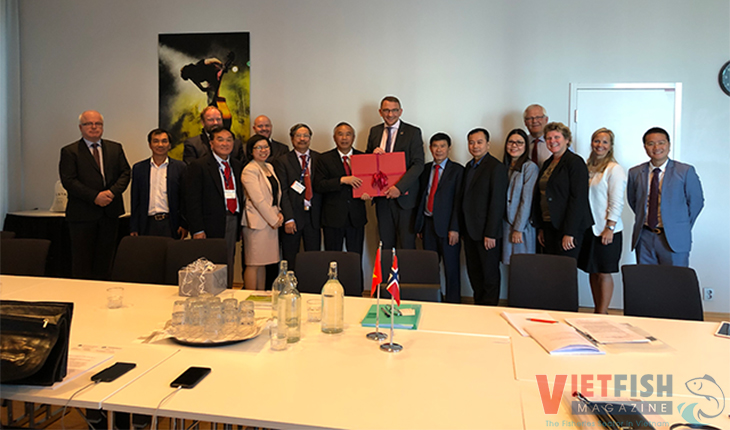 The Vietnamese delegation led by Phùng Đức Tiến, Deputy Minister of Agriculture and Rural Development, paid a visit to Norway in 18-25 August 2019 to boost the cooperation between the two governments and among companies related to industrial marine aquaculture.
On the first day, the delegation visited an offshore farming cage owned by Salmar, a company that has specialized in producing Norway's tuna, and provided the delegates a lot information about installing cages, anchoring, using the automatic feeding system and surveillance cameras, transporting, and processing. Vietnam has been studying to develop this model domestically.
Deputy Minister Phùng Đức Tiến participated into the Aqua Nor forum 2019 which ran three days from 20 to 23 August 2019 in Trondheim, Norway. Aqua Nor has been an important international meeting place for the aquaculture industry with a series of professional seminars, talks, presentations and other events. Aqua Nor is considered a good place for the old partners to get together and the new ones make their acquaintance.
Over more than three decades of bilateral cooperation in the aquaculture industry, Vietnam has considered Norway a strategic partner. Tiến said: "Aqua Nor creates a promising opportunity for Vietnam to approach advanced technologies in marine aquaculture while we still lack knowledge".
During the trip, Tiến met with some leading companies of Norway including Scale Aquaculture, which specializes in aquaculture technology and equipment, and AkvaGroup, a specialist in inland and offshore aquaculture. He visited the Akvaforsk Genetics Center that conducts the research and production of tuna fries based on gen selection technology. Vietnam is planning to re-launch the process of pangasius farming based on the gen technology and marine aquaculture technology. Thus, this is a useful approach to improve the quality of local seafood products. Besides this, Tiến worked with Sintef Ocean and NCE Aquatech to learn more about the new species and aquaculture technology and had a meeting with the Norwegian Directorate of Fisheries about adopting and enacting the law and regulations in aquaculture, introducing the registration system to aquaculture facilities, planning the coastal area, granting farming licenses, and improving the management and surveillance.
VFM