News
World Aquaculture 2020: Singapore EXPO Convention and Exhibition Centre & Max Atria, Singapore June 8-12, 2020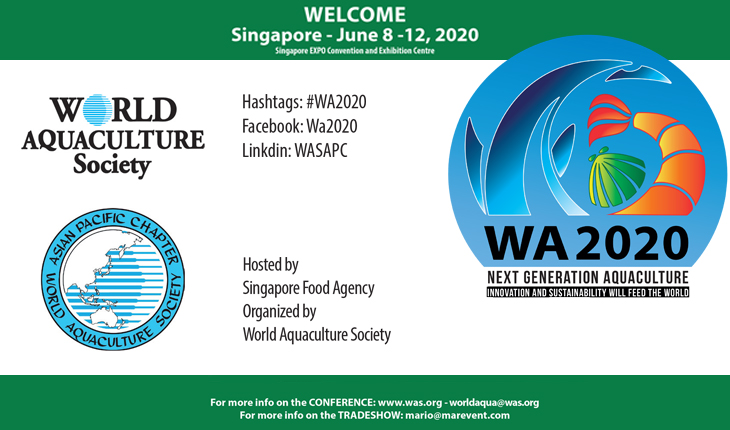 World Aquaculture 2020 (WA2020) is pleased to announce the keynote speaker for WA2020 "Keynote Speech by GOH". which will be held in Singapore on June 8 -12, 2020. MASAGOS ZULKIFLI, Minister for the Environment and Water Resources and Minister-in-Charge of Muslim Affairs Republic of Singapore.
Announcing Keynote Speaker at WA2020, Farm Tour and Travel Award
Mr. Masagos Zulkifli is Singapore's Minister for the Environment and Water Resources, which oversees the National Environment Agency, PUB – Singapore's National Water Agency, and the Singapore Food Agency. Mr Zulkifli entered politics in 2006, after being elected as Member of Parliament for Tampines Group Representation Constituency and was appointed Senior Parliamentary Secretary for the Ministry of Education. Prior to that, Mr Zulkifli was working in Singapore Telecommunications Limited and last held the position of CEO, SingTel Global Offices. From 2008 to 2014, Mr Zulkifli held other positions within the Singapore Government, within the Ministries of Foreign Affairs and Home Affairs. He took on his current appointment in October 2015 and was appointed as Minister-in-Charge of Muslim Affairs on 1 May 2018.
Farm Tour
Attendees will visit up to five sites and will be able to enjoy several pre and post farm tours.
The First farm tour # 1 will take the participants from Singapore Harbourfront Ferry Terminal to Batam Island, Indonesia.
Farm tour A will be at Barramundi Asia & Marine Aquaculture Centre
Farm tour B will be at Coastal Fish Farm
Farm tour C will be at Land-based Food Fish and Dragonfish Farms
Farm tour D will be at AIC & Ornamental Fish Farms.
More information can be found on WA2020 website: https://www.was.org/meeting/code/WA2020
WAS-APC Travel Award for Women's Participation at WA2020 in Singapore.
WAS-APC has been financing and organising the WAS-APC Women Awards for exceptional women within the field of aquaculture for the past few years. WAS-APC is currently providing the opportunity for female aquaculture people to attend World Aquaculture 2020 from 8-12 June 2019 in Singapore. Funding for this opportunity is provided by WAS-APC.
Applications close on 30 March 2020.
Any enquiries should be referred to WAS-APC Secretariat (email: apcsec@was.org) with a copy to Dr Diana Chan (Chairman – Awards Committee; President- Elect WAS-APC) – email: peksian@tp.edu.sg
Hotel and Ttransportation
Please book online to get the special rate for WA2020 participants at https://mktg.singexpress.com.sg/world-aquaculture/
Information regarding commercial exhibitor, sponsor, participants and visitors registrations can be found at the link at www.was.org and social media : Facebook and LinkedIn # Wa2020.
We are looking forward to meeting you all in Singapore at WA2020. Register early to save more money!
For Conference Management, contact Mr. John Cooksey, email worldaqua@was.org
For Booths and Sponsors, contact Mr. Mario Stael, Email: mario@marevent.com
WAS-APC Chapter secretariat executive officer, contact email: apcsec@was.org